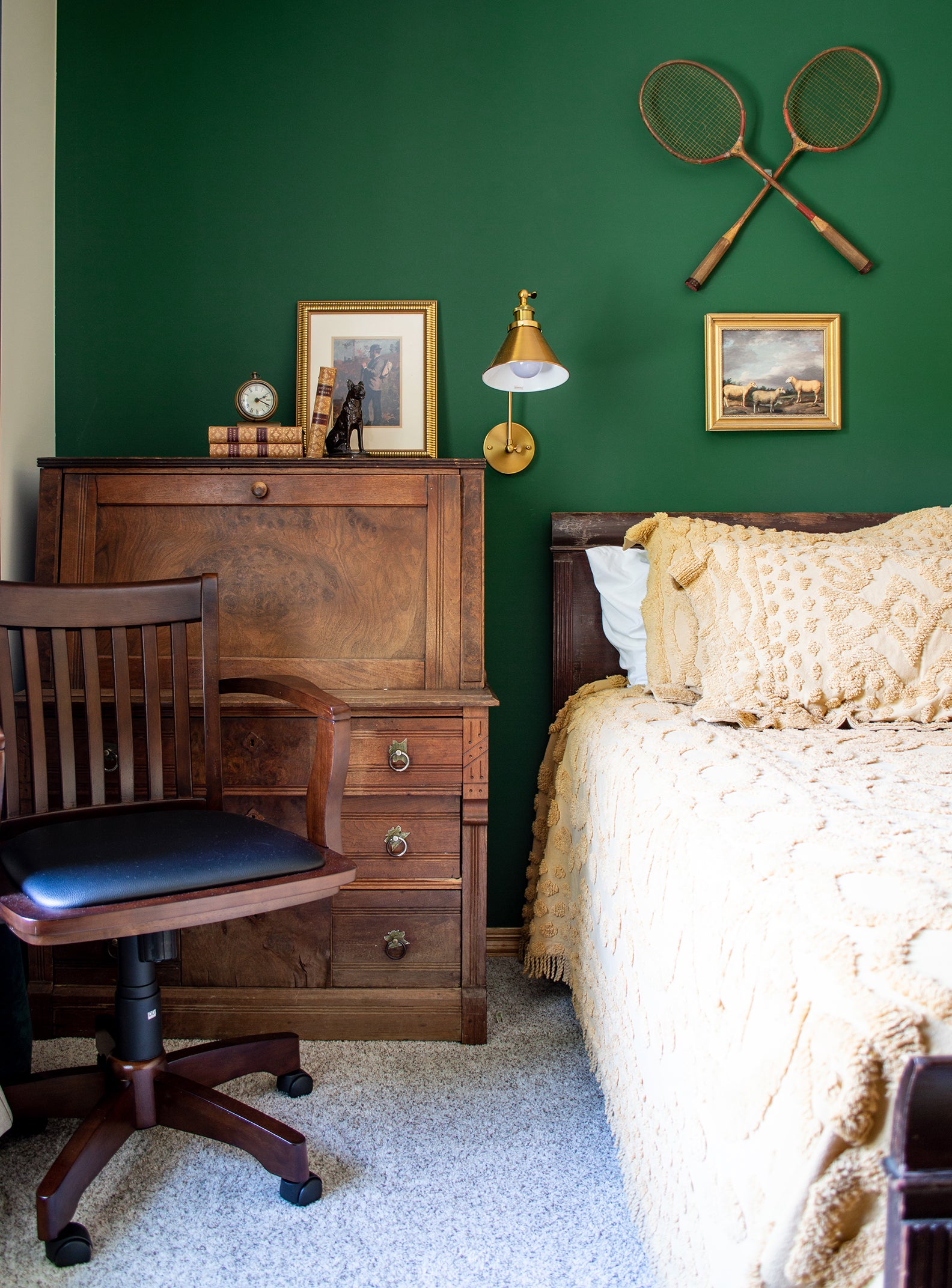 When we decided to hold off on the whole house reno, I knew immediately we needed to do something with the kids' rooms. Making them feel at home and safe is truly one of my top priorities. We've lived here for two and a half years and we still haven't truly felt settled in. Well, we're done with feeling like guests in our own house. 
We moved Taggart into what used to be the playroom. I asked Taggart what he wanted specifically and he said Green! We chose this rich jewel tone of green, and I have zero regrets! The green velvet curtains tie the whole room together for me. It brings the green out of that wall and makes the room a little more fluid. 
The freaking bed frame!!! It was such a deal on KSL.com. I died when I saw it! It was from a man who was selling his mothers furniture. She had this bed her whole life. It was made in the 1930's and she was the only owner, until now. I love finding stuff like this. They don't make charming stuff like this without charging an arm and a leg for it. Sheesh! 
My friend Shelly found this amazing Armoire for $45! Like what!? It's in mint condition. I feel really lucky that this room is so full of charm. That dark wood is just doing it for me. 
My mom kept asking Taggart what he liked so we could bring him into the room and his responses were green, turtles, wolves, foxes, and tennis. My sister has a tennis court so Taggart has only played a few times, but it was love at first play. This made the perfect combo that we went for. The turtle was our splurge. It makes it fun and whimsical, but in a classy way. We didn't do tennis racket, but he doesn't know the difference between those and badminton right? 
Taggart LOVES his new room (especially his turtle). It's his happy place. I love that he loves it and I love that I love it. It's hard to create that happy medium. He has loved having his own room and it's best that we separate the girls from him.
Links
Just like in the girls room, many things in Taggart's room came from antique stores and thrift shops. I have tried to find links for similar items for you.