Aspen and Helen's Bedroom Reveal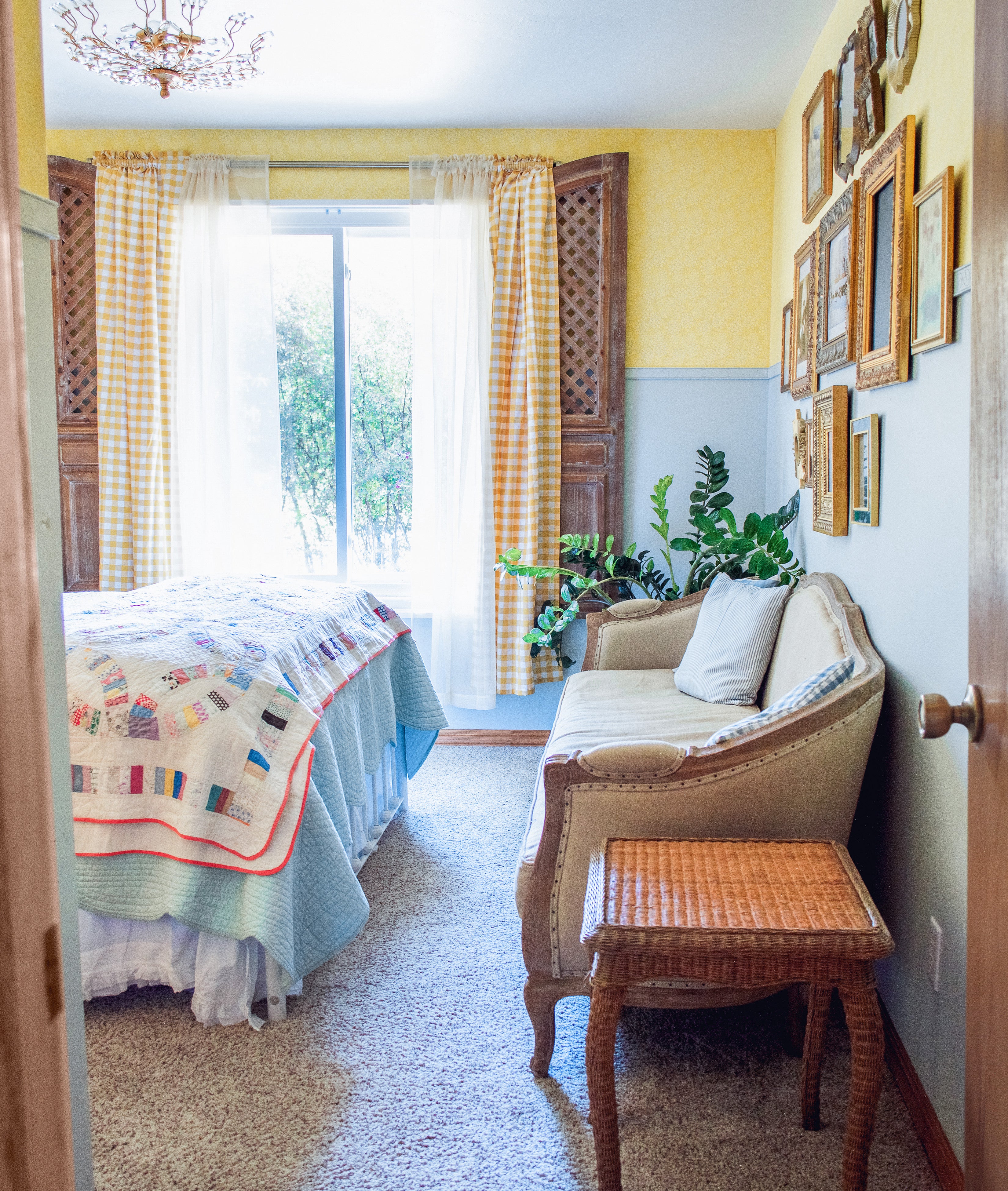 As you probably know, we've been planning for a long time to completely renovate our home this year and add an addition. We had the plans approved and the financials all set, but when it came time to pull the trigger, we couldn't do it. I had this feeling (premonition, prompting, whatever you wanna call it) that it wasn't the right time yet. I know. After all the planning and prepping, I was really ready to call it quits? Well, I've learned from experience that when something doesn't feel right, I should follow my instincts. Ammon and I discussed it and agreed that waiting feels right.
Ammon and I also agreed that it was time to bring this house of ours into the 21st century and make it feel more like us. We planned a quick home makeover, addressing the most urgent and frustrating things about the house, first. Then we infused it with some Ayres charm and...you guys! It turned out even better than I imagined! I'll be revealing the rooms we worked on in the coming weeks, and today we're starting with Aspen and Helen's room. You ready?
Before our mini-makeover, all 3 kids shared this room. It boasted blank white walls, no real light fixture, a triple bunk, a very full closet, and some very happy kids. They loved sharing a room, but they were starting to outgrow the space. We moved Taggart to the playroom and turned this one into a girls only space. 
I wanted the girls room to feel like a cottage more than anything else. I asked them what colors they wanted, after a few days of back and forth on what they wanted, the compromise of yellow and light blue was literally perfect! They are both thrilled how it turned out. They keep saying their room is a bed and breakfast - just cozy and a place they want to be in. 
I asked my mom to come over and help me put this room together. The challenge was to maintain the room's function and make it beautiful, without overdoing it. I kept wanting to add more and my mom kept telling me it was too gaudy! Haha! I'm learning so much from her. She's been designing for many years, and has the best eye for it. Interior design is something she and my Grandma Helen (her mom) really connected over. They both loved English and French styles and maintained their incredibly special bond through the decorating they did over the years. It brought them together in such a special way. I'm actually giddy to see my mom and me bonding over the same thing now. 

My mom found the shutters at an old shop downtown. I bought that amazing patchwork quilt from Stiched and Found (Hannah buys old quilts, washes and mends them, and resells them). The artwork is almost all from BFF print shop, or Etsy, and the frames were from all over the place. Every time I go thrifting, I try to find a good picture frame. Most of the items in this room, like the side tables and the sofa, came from my mom's garage or from thrift shops. I kid you not, thrifting can change your life! I've done my best below to link to new items that look similar for you.
At first, I was nervous that the blues didn't all match, but now that it's complete, I feel like it gives this room so much depth. It feels like home when I walk into this room and I'm so grateful my girls feel comfortable here. It's their little sanctuary. I had a hard time splitting the kids up, but I think it's time Aspen started getting more privacy. She's growing up so fast. I feel like a grandma saying that, but in no time, I'll be one. 

My favorite thing about this room is how good I feel being in there. I want to read or just sit there. It brings a sense of calm and warmth and just good vibes. It is honestly amazing how decorating really can change everything about a space. It doesn't have to take a ton of money or even happen overnight, just little by little making little spaces that feel good can really bring your home to life. I am so happy how it all turned out and I can't wait to keep changing and adding and morphing it throughout the years. 
Links
What do you like about the room? What should I add or take out? It's not the typical style of today, but that's what I love most. We made it our own!
Love,
Abi