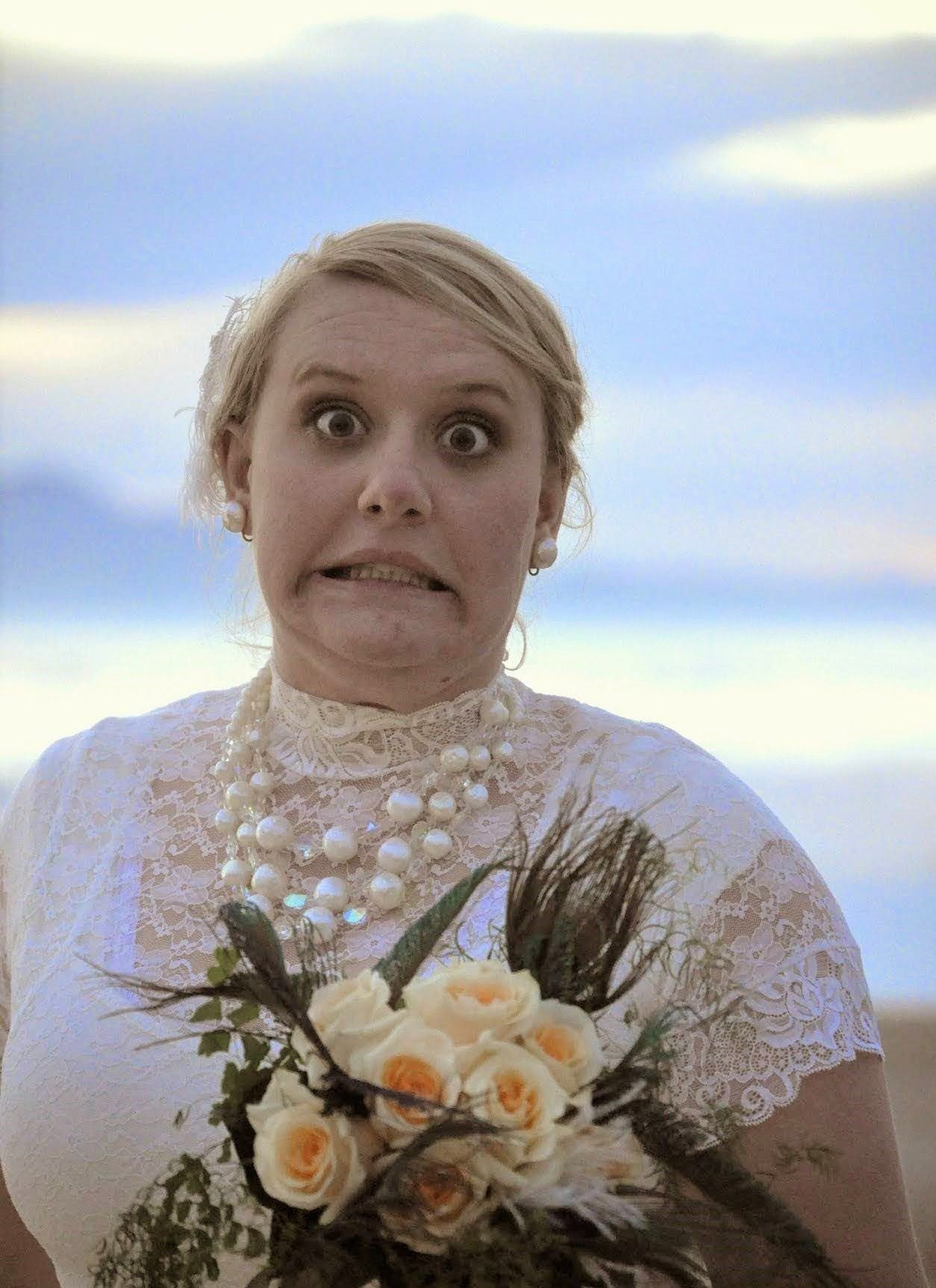 Dear Abi:
I'm in the middle of wedding planning and I just know something is going to go wrong. Did you have any wedding disasters or am I going to be the only one?
My Wedding Disaster
Oh honey.
Ammon and I introduced our parents to each other over dinner at Applebee's. Once we sat down we went around the table and said one thing we'd each really like to have/do at our wedding and reception. My mother-in-law said, "the most important thing to me is having a line at the wedding so people can come in and talk to us!" I remember thinking, "oh no. My number one thing is to NOT have a line at the wedding!" And that was the first time I ever had to navigate drama with my mother-in-law
Want another one?
We had our reception a week after our wedding. We got married on March 25 and held our reception on April 1. We pushed it off hoping that the Utah weather would be nicer, but it ended up DUMPING snow! Like, a full-blown snowstorm! AND our reception was up Mill Creek Canyon, which made it a nightmare for anyone who didn't have four-wheel drive.
Here are some more stories from you!
"My husband Schuyler and I have been married 11.5 years. We were married on New Year's Eve at my aunt's house on the water. After I got my hair and makeup done I had called his sister who was with him setting up. She said he wasn't feeling well and I thought they were joking. I got to the house and he was green laying on the bathroom floor and had been puking (and the other stuff) and just felt so sick. He stayed there as our guests came and he even kicked me out of the room I was to get ready in because our voices were hurting his headache. I finally had to go out to our guests that had already eaten and were just hanging around for hours and about an hour later I saw the light come on in the room he was in. I ran up and he felt ok enough to stand on the balcony and get married. In his "groom" shirt and camo shorts with the poo in them. I have pictures! It turned out to be some crazy 24 hour bug."
Kim S.
"Not a terrible terrible story but just irritating 😂
1. We had over 150 guests at our wedding because my MIL wanted their entire church invited. Her massive guest list made us decide to have the wedding in my Husbands home state… 13 years later, hardly anyone in her massive guest list has any relationship with them anymore. A couple years later, the church fell apart /split and we don't know any of the people who watched us get married 🤦‍♀️ words of wisdom: close friends and family only, your mother-in-law already had her own wedding years ago 🙌
2. I had a friend do my make-up for the big day and when we went to put my dress on, my mascara smudged and left a big black mark by my boobs on the outside of the dress… Somehow 🤷‍♀️🤦‍♀️🤦‍♀️🤦‍♀️ we tried a tide stick and it didn't work to get it out, it just yellowed the dress and smudged the black. So, we got crafty and used a diaper pin to add a little extra fold to the top. In all my wedding pictures, you can see the pin 😂🤣 I really didn't mind though, it's just a funny story and we all laughed so hard at how stupid we were to put the dress on with wet mascara! Good grief. (side note: I also wore my favorite garden crocs with my fancy wedding dress… I totally got the side eye from a lot of people but I was comfortable as could be!! And, my meal right before the wedding was a big Mac. Yummmmm)"
Jesse O.
"Permed my hair days before wedding. Don't ever do that! I looked like a poodle. Day of wedding had girlfriends trying to do my makeup. Three tries and looked like a hooker each time. Finally did my usual bare minimum makeup. Glad I looked at least normal.
Husbands family's car broke down, caused an hour delay in wedding.
And I got so trashed, my husband had to practically carry me into hotel where he also had to hold my hair while I was puking, undressed me, put me to bed and then he watched tv for a few hours until coming to bed to his comatose bride!"
Debi H.
"This was my first wedding. A sign that this would definitely NOT work out.
After the ceremony, all our family and friends left the church to go to the wedding luncheon. I was still in the bridal room changing into my luncheon dress. My mom and maid of honor left me to go to the lunch venue knowing my new husband would be waiting to take me. I finished dressing, grabbed my stuff and went outside to get my hubby. Although he wasn't there and now the doors to the church were locked. I was standing outside with my wedding dress in hand and no husband to be found. This was before cell phones so I was stuck. Thankfully my Aunt and Uncle forgot something at their hotel so they happened to drive by and saw me there. They stopped and picked me up and took me to the luncheon where my "husband" finally showed up drunk about an hour later. It was not a fun day."
Heidi T.
"We had a backyard reception and a lady and her dog came. My husband and I both thought she was a guest of the other person and it wasn't until later we realized neither of us knew her. She lived in the neighborhood and told us she just heard there was a party and came. She stayed the whole time – stood in the group to catch the bouquet, grabbed a sparkler to wish us off, etc.
"
Karlee R.
"We were leaving our reception and running out to our car through a tunnel of family and friends! We got loaded up and my husband started the car, only to start spraying us with GLITTER. My brother who was 14 at the time had thought it would be funny to POUR glitter into all the air vents and crank the air to full blast so when we started the car, we would get it all over us. In our eyes, our hair, mouths, EVERYWHERE. We left the keys and the car at my parents' house and I wrote a very angry note saying my brother better have our car cleaned by the time we got back from our honeymoon. We had the car for 3 years after that and still found glitter until the day we sold it…"
Hannah L.
"My dads phone rang while he was "giving me away." He declined the call. Then it rang again 30 seconds later and he answered it!
"
Amber S.
"Dear Abi,
You asked for wedding day stories….. I have a couple to say the least. We had a wedding weekend at a girl scout camp that over looked a lake in Southwest Michigan in August. So it was Hot an Humid- No AC we used Big industrial fans to try and keep us cool. We also rented golf carts to hold our guest from the lake back to the reception, cabins bathrooms etc. We are also non traditional in the way we have done life we met young moved away from everyone lived away for years moved back closer. We bought a house and had two kids and then got married. Anyways the Night before my wedding we had to set EVERYTHING up thankful for all the helping hands. That night the Men in the wedding party decided to have golf cart races (in the ones we rented). in the dark while the ladies were in a separate cabin on the property. They marked the deck (small isle) where we ended getting married from the golf carts barely fitting and did burnouts at the ceremony spot. They then proceeded to drive them down the trails and ended ramping one on a large tree that was down I want you to think teetertotter with a golf cart. The men besides the groom to be went to bed and kept waking me up until i would go help him it ended with getting the golf cart back on the trail and to my cabin. he found an extra key and drove off in the dark i returned to get 1 hour of sleep before our wedding day. I then woke up and My family started to wake up to finish setting up (final details) No one could find the groom But i knew where he was hiding and didn't care lol My son who was about 18 months ended up with Hand foot mouth on our wedding day and was basically miserable all day He stayed with the drivers on the golf carts when the wedding started. The golf carts worked great until they overloaded them and broke one half way down while I was finishing getting ready. The part after that until the end of our reception was Wonderful first looks first dance Peanut butter pie getting all over the dress My Granny and I made together. The DJ's Parents ended up coming since they didn't here from him and I sent them and all the staff home with Pizza and Pies whatever they liked. I later went to the Main Bath and found our MC(family friend) sick in the bathroom showers let me just say to you red wine doesn't look good coming up…. WE (the newly married couple) helped his wife clean him up get him in his care and sent him home. We went to our cabin for the night decided to read our cards and quilt squares(guestbook) and passed out. We did the fun stuff after we got sleep …. Soooooo Every wedding has good and bad parts but the memories that made that weekend the good and bad are really my favorite! My advice is Embrace the chaos and enjoy the love that fills your cup!
Love and Light
Mallory"
Mallory B.
"Story 1
A couple days before our wedding I felt like I was getting sick. I had a sore throat but didn't think it would be more than that. Jake and I were hanging out doing last minute planning. Of course Jake wanted to have a quick make out sesh to end the night. I said it's probably not a good idea since I'm a little sick and his response was I'll be fine I've already had what you've had. Needless to say we ended up making out. We both ended up having strep throat at our wedding, where we came in contact with 400 guests, and probably also gave them strep, Yikes!
Story 2
After our wedding ceremony I went back into the building to change out of my giant dress. Our reception wasn't till later that night so I figured I would change into more comfy clothes for the drive home and then put my dress back on before the party. My mom was supposed to come in and help me change after the ceremony. I waited for her for like 15 minutes thinking she was talking to people. When I realized she wasn't coming I went out and tried to find her. Turns out she had left. I went back into the building found some random 70 year old lady and had a nice mother daughter moment with her while she helped me get out my wedding dress because my mother forgot about me haha! I am the 9th and last child so being forgotten about is actually nothing new."
Marissa D.
"I got married last year during the pandemic, nothing went according to plan to say the least. The worst part was I found my DREAM dress. It was everything I imagined and more, but because of all the changes and a short timeline a family member was the one who did the alterations (I do not recommend this!). I went to try on my dress shortly before the wedding and it was nothing like I remembered, she had taken way too much fabric off the bottom and I cried after leaving her house. She tried to fix it, but in pictures I still notice it was way too short and I wore flats!!!"
Haleigh G.
"Oh girl
At my first dress fitting, my seamstress had a stroke AS SHE WAS PINNING ME. One second she was standing there and the next she was on the floor.
Have no fear though- Olga made a full recovery…
THEN, three weeks before our wedding- the venue burnt to the ground from an overnight electrical fire. The entire place was torched… the venue had a secondary location that just so happened to be available on our date so we could switch there (thank God for Sunday weddings), though the entire vibe and style was completely different than the original.
THEN, my husband's best man blew himself up the week of the wedding. Yes… the man blew himself up lighting a bonfire with lighter fluid
He had major burns over most of his body but refused to not be at the wedding. Most guests thought he had black tattoos on his face… no honey… that's just charred flesh.
THEN… my now husband was playing with all of the dogs from our family that were staying at my house the morning of the wedding, and got a huge gash right under his eye hours before he needed to be ready at the new venue.
You'd think we would've taken all of these as signs that it's not meant to be
BUT we got married and life is good!
We laugh now… but THE most stressful time of my life."
"A couple hours after our wedding reception, my husband and I were sooo hungry cause we hardly ate anything! There was a Burger King next to our hotel so at 10 PM we walked over to get food. The dining room was closed
so my husband reaches for his keys so we can go through the drive thru, he forgot them in the hotel room, and also left our hotel key in there! So keyless and starving, we walk up to the drive through window and basically beg them to let us order food without a car
the kid in the window was super cool and let us order but it was so embarrassing when cars started pulling up hahahaha"
Hannah M.
"This is more of a honeymoon disaster. We got married in 2004. Our reservation was canceled last min (noise ordinance)up in a pretty town in northern Idaho. We ended up getting a hook up on a cruise to the Bahamas. One day into our cruise we ended up turning back to the states because a hurricane was heading to the Bahamas and then making its way to Florida which is where we embarked. They gave us an option of staying on the ship or getting off. We got off thinking we could fly out before the storm eventually made land fall. Unfortunately the airport closed, no more flights. We ended up hunkering down in a hotel for 4 days during a hurricane/tropical storm. It was an interesting experience. It was scary and funny and overwhelming all at the same time. We will never forget it!"
"We got married on our family ranch in west Texas, close to the Mexican border. It was about an hour and a half to get there so the best man (his now wife) and our wedding DJ (and his wife) decided to go the morning of the wedding to shop and have lunch then head back in plenty of time for the 7 pm wedding. We planned on taking some of the group photos before while the light was good as our wedding was at sunset. Everyone was to be dressed and ready for photos by 4:45 pm.
So let me set the background here. Think back to 2007, the very first iPhone had just come out that summer, car chargers weren't really all that common place and being a new model of phone I don't think they were readily available in early October. So come 4:00pm no one had seen or heard from the group that went across the border. None of them were answering their cell phones. 5:00 comes and goes. 6:00 comes and goes. All of this is being kept from me, the bride, until about 6:15. Groomsmen had take photos in what we now lovingly refer to as the Missing Man Formation. Guests are due to arrive soon and DJ equipment isn't set up or playing in preparation for our guests at our outdoor wedding. About 6:30 they come FLYING down the dirt road, and are dressed and ready in 10 minutes! Turns out the DJs wife with no sense of urgency enjoyed every single bite of her lunch like it was her last meal and with on the way back to the car kept popping in to "one more" shop. The bridge to get back across the border can be unpredictable and it took them several hours to get across and through customs with the items they purchased and well, their cell phone batteries had long been dead. Thankfully, it all came together and we have a really great story to laugh about now almost 14 years later."
Kate P.
"My bridesmaids, parents, grandmothers, and me all stayed in a big cabin for the wedding. When we got there, the well that fed the cabin water broke. One of my bridesmaids ending up pooping in the woods, we had to go to the church prophets chamber to shower one at a time (I had 8 bridesmaids), we couldn't cook. Disaster zone. Actual wedding was okay, but my husband forgot the ring, so everyone sat in the heat (90 degrees) while my MIL had to go get it. I got stung by a sweat bee in the middle of the ceremony, and screwed up my vows. We are happily married almost 5 years later. Not sure if it tops my mom dropping her wedding cake though."
"My story does not take place on my wedding day, but on the day I was taking my Bridal photos. I was getting my hair done and my hair appointment went longer than it should have. Therefore, I was late for my photo session for my bridals. My veil needed to be "built" into my hair-do, so when I left the salon, I was wearing a veil. I was rushing to my photo session, when I noticed a police car pull out of a parking lot, and followed behind me. I was speeding, so I figured he was going to pull me over. But he continued to follow me for some time without any lights or sirens. After following me for a few minutes, he finally turned on his lights, so I pull over. I roll down my window and he says "I thought that's what I saw" (referring to my veil). Then he said "Is today your special day?" and I totally lied! I told him I was on my way to my wedding. So he said, "be safe, nobody wants the bride to be in a car crash on her wedding." And he left without giving me a warning or a ticket."
Charlene Y.
"Let me just start by saying one thing. 2020. Now to prevent that from sounding cliche, let me explain just HOW 2020 my wedding was. Trust me you want to read to the end..that's where the best/worst part is! First of all, I waited a long time to get married. I met my husband online when I was 45. We dated long distance and on my 46th birthday he proposed just a few yards from where he first kissed me at the Lake Oconee Ritz Carlton. I was in a blissful daze during my flight home staring at my ring as news reports about some virus in China were nothing but background noise at the airport. Needless to say, being engaged was nothing like what I'd dreamed of, from the initial lockdowns, wondering if/how the August wedding would take place to the relief of things kindof opening up to the masked hug-less bridal showers and finally walking down the aisle outdoors at a gorgeous venue with about 1/10 of my desired guests allowed to be present. But at least it happened and it was beautiful! We then had our temple ceremony. I booked the largest room in early March because of my massive family, only to get 16 guests, but still, at least it happened. We had a simple outdoor socially distanced (totally safe) reception planned but I got strong covid based opinions from enough people that I got sick of the drama and just cancelled it. Big mistake big regret. When people say "it's your wedding you do what you want" understand that they will SAY that and then voice their opinions. But listen to me..it is YOUR wedding…let it be what YOU want…no regrets! I married my dream guy, I'm grateful I'm happy. Fasten your seatbelts kids, the real fun began after the wedding. My husband and I had a 2 night "mini moon" (real honeymoon still TBD) then spent one week with my family before road tripping from Utah to Georgia (with my 3 little dogs) where we would close on our home 2 days after arriving. Perfect timing right? After one week of no sex we were excited to find a hotel en route to Georgia that not only allowed dogs but upgraded us to a honeymoon suite. Aunt Flo made an early appearance about an hour before we checked in and the dogs blackmailed us by barking so loudly that we were scared of getting kicked out. They slept with us every night we were on the road because that was the only way they would keep quiet. The day before we got to Georgia we found out our home closing had to be pushed out at least a month. We slept in his tiny bedroom in his parents tiny house with thin walls right next to his parents bedroom…for two…months! Lessons learned: no wedding is perfect, roll with the punches, be happy with the awesome beautiful stuff, miracles happen and all that really matters is you and your spouse on your wedding day. My wedding was far from perfect but I married the perfect guy for me so it's all worth it. Plus now I have stories like this to tell…and you better believe I left stuff out!"
"Our wedding was almost perfect. But there was an incident that made it memorable

My husband and I had just been sealed in the Salt Lake temple and we were waiting to go out the doors for our big debut in front of our family and friends. We stood there waiting and didn't know why we couldn't go out yet. My mom says "they can't find the kids" meaning my younger sisters and our younger cousins. Then she says "none of them are answering their phones. Each one is going to voicemail." We had no idea what could have happened! During the sealing my teenage sisters were watching the little kids at my grandmas condo across the street from the temple. So that is where they had to be. But my grandma and uncles went over there and they were nowhere to be found! Our photographer was worried that the longer we waited the less time we'd have for pictures so we decided to make our exit. So half of the people weren't there. About 20 minutes later we see the big group of kids and my uncles heading towards us. My little cousin runs up and says "we thought we were gonna die!"
Turns out they were stuck in an elevator for at least 45 minutes!!!"
Chelsea S.
"I threw up all over in the LDS temple while going through for the first time with my now husband. Please note that everything in the temple is white and I totally just ralphed everywhere including on a temple worker's shoes. Turns out I had the flu and passed it to my husband and the next day when we were kneeling over the altar we were legit sweating and had to tell our cute sealer to hurry because we didn't want to soil (crap/barf) on our white clothing."
"We got in a car accident on our wedding night. Not our fault. We were okay thankfully, but it's not something you ever want to happen to you. Especially on your wedding night."
Kristin M.
"Wedding reception was held in my parent's backyard/farm. My new brother in law, who is interesting, decided it would be hilarious to put a garden snake hw found in my hair during pictures. I was livid and he told me to stop being a drama queen. I've never wanted to punch someone so bad. It shouldn't have, but it ruined my attitude and basically my night. Add to that being exhausted from a long day and not having eaten for hours…I wasn't the happiest bride. To this day, he still teases me about it."
"My now husband and I were living together. As you know in Utah that is "frowned upon" we were 19 and 18 just out of high school, and going to collage. My mom asked us when we were going to get married. At the time it was the end of July. To get her off of my back I said that Sep 15th sounded like a good day so maybe the next fall. (Sep 15 was in 6 weeks.) She then announced that she would tell every one we were getting married on that day and have a wedding ready by then. Her and my mother in-law planned every thing. I hated pretty much all of it. My promise ring was taken away, then had two big bands added to it so it now is 1/3 of my finger. I hate it. My cake was so ugly and not at all what I had ordered. The lady I hired to do my hair and make up call off the day of so I had no one to do that. My mother in-law decided for me to have the most ugly flowers I was not asked what I would like. She also wore the most outlandish dress, and I asked that no one have curly hair because I was going to have curly hair but her and her daughter both showed up with curly hair. I was told I was a BrideZilla any time I tried to ask for something I wanted or liked. I did not want a line because I wanted to talk to friends and family and have food. I was told I was ruining the day for my parents so I agreed to the line, but made it 16 people long. It definitely was not a day for my husband and my self. Oh and my rehearsal dinner was a mess. Its usually just for the people in the wedding party but my parents invited over 250 people. I still to this day never got a proposal or was ever asked if I wanted to get married. That was back in 2007 so we have been married for almost 14 years."
Brooke K.
"My step son and nephew were the mini groom and ring bearer for my hubby and I's wedding. They were 5 & 4. Our nephew refused to practice walking down the aisle at rehearsal so his mom made a deal with him that she'd put a ring pop on the ring pillow if he would walk the day of our wedding. All was well and the ceremony went great. Afterward, during the reception we found out that the real stars of the show were our son and nephew. The whole 20-25 min ceremony they were taking turns licking the ring pop. And I'm talking long/waging of the tongue licks! At one point our son realized everyone was laughing at their cute and hilarious actions and politely refused anymore licks from his cousin. Our good friends videoed the whole weekend of events for us so we actually were able to see it all on video and it is FANTASTIC
."
"A couple years ago my niece got married. It was May so she was able to have a beautiful outdoor reception catered by a local family with the most delicious variety of tacos. It was stunning, and delicious. Seemed like it went off without a hitch…until everyone who at the pork tacos woke up in the middle of the night running for the bathroom. That's right…food poisoning. Pretty much everyone at the reception got sick. It was super unfortunate, but I'm pretty sure the catering ended up being free…"
Carly T.
"My entire wedding was pretty unconventional thanks to my insane family. Haha! My poor husband.
My mother was particularly interesting to deal with, but the final two days before the wedding take the cake. Literally.
My husband and I are not particularly flamboyant people. We wanted classic colors, simple bouquets/boutonnieres, small wedding party, no flower girls, or expensive reception halls. We wanted a quiet outdoor wedding with close friends and family. We wanted the focus to be on the union of two families, not the decorations. We also don't like cake, so we ordered an ice cream cake for us as our "cut the cake" moment. Costco sheet cake was ordered for everyone else to enjoy. This was apparently blasphemous.
To top it all off, I am also not a bachelorette party person. I wanted a low-key girls night with my BFFs, no penis soda toppers or strippers necessary. This was my mother's breaking point.
48 hours before I was set to walk down the isle, I get a phone call. My mother was absolutely beside herself. I was informed I was "a selfish b*tch for making my wedding all about me" among other things. This rant went on for a solid hour and a half of my life. Once she realized I wasn't going to change any of the decisions (it was a bit late to change most of it anyway) she declared she wouldn't be coming, and hung up on me.
I immediately called my mother-in-law to be, and asked her if my mothers accusations against her were true. Had she spoken to her and expressed distaste for our lack of love regarding cake? My mother-in-law (bless her) calmed my worries and said it would all work out.
I found out later my mother was primarily upset because she had ordered a penis cake, among other male genitalia soda topper, candies, and decorations. She was upset I wasn't having a bachelorette party, and that I hadn't planned on inviting her. She was also livid we weren't having a display cake at the reception. I'm still not sure why cake was her catalyst, but I digress…
The day of our wedding came, and I received a phone call from my mother dearest. She asked if she could take me and my friends for breakfast and manicures. To which I politely declined. I was set for a hair appointment first thing, and my nails were already done. She hung up on me again. The rest of the morning was spent fielding calls from various relatives, while I finished getting ready with my maid of honor.
My mother did show up, and was there with my two youngest sisters dressed in white. She had purchased flower girl baskets and petals for them and made sure they walked down the isle. She also brought a styrofoam wedding display cake from Maceys grocery store, and put a cake topper on it. She placed it in the middle of the gift table, next to the sign-in book.
I made sure I got a picture of it, purely because I laughed for hours over that blasted styrofoam cake. It's been 10 years now, and I believe that cake is still in my parents basement."
Jessica G.
"I have two wedding disaster stories.
First is, my aunt was suppose to cater but somehow she got confused and offended when we told her my in laws were doing the food for the open house..she didn't realize that wasn't the same as the reception..so when the time for the reception came, we had no food..Costco run to the rescue an hour before the reception

Second, at the open house the day before I got married (which I didn't even want but was kind of forced in me by my mother in law. She didn't want people to have to drive 45 minutes..) my husband and I were the one cleaning the house, setting up, cooking the food, etc, while my mother in law had people over getting her hair done. I had to quickly get ready since I was the one doing everything all day. She then was mad I wouldn't wear my wedding dress and choose a cute while lace dress instead. I didn't want to wear my dress since I wasn't married yet..and THEN while in the line, a couple comes up whose daughter served in an area close to my husband was was still out serving at the time. Apparently my husband and her/her family knew each other all growing up. They go in and on about how upset and sad they were he was getting married. Kept asking if he was sure..all while my in laws sat and nodded along agreeing…we were getting married less than 24 hours later..that was a fun experience haha."
"I saw in your email that you are collecting wedding stories! Our last week's episode was exactly that so take a listen!" GabFest Gals
Britt J. and Alyson C.
As traumatic as wedding disasters are in the moment, they're sure fun to laugh about later
Thank you for sharing! Love to you and yours ♥