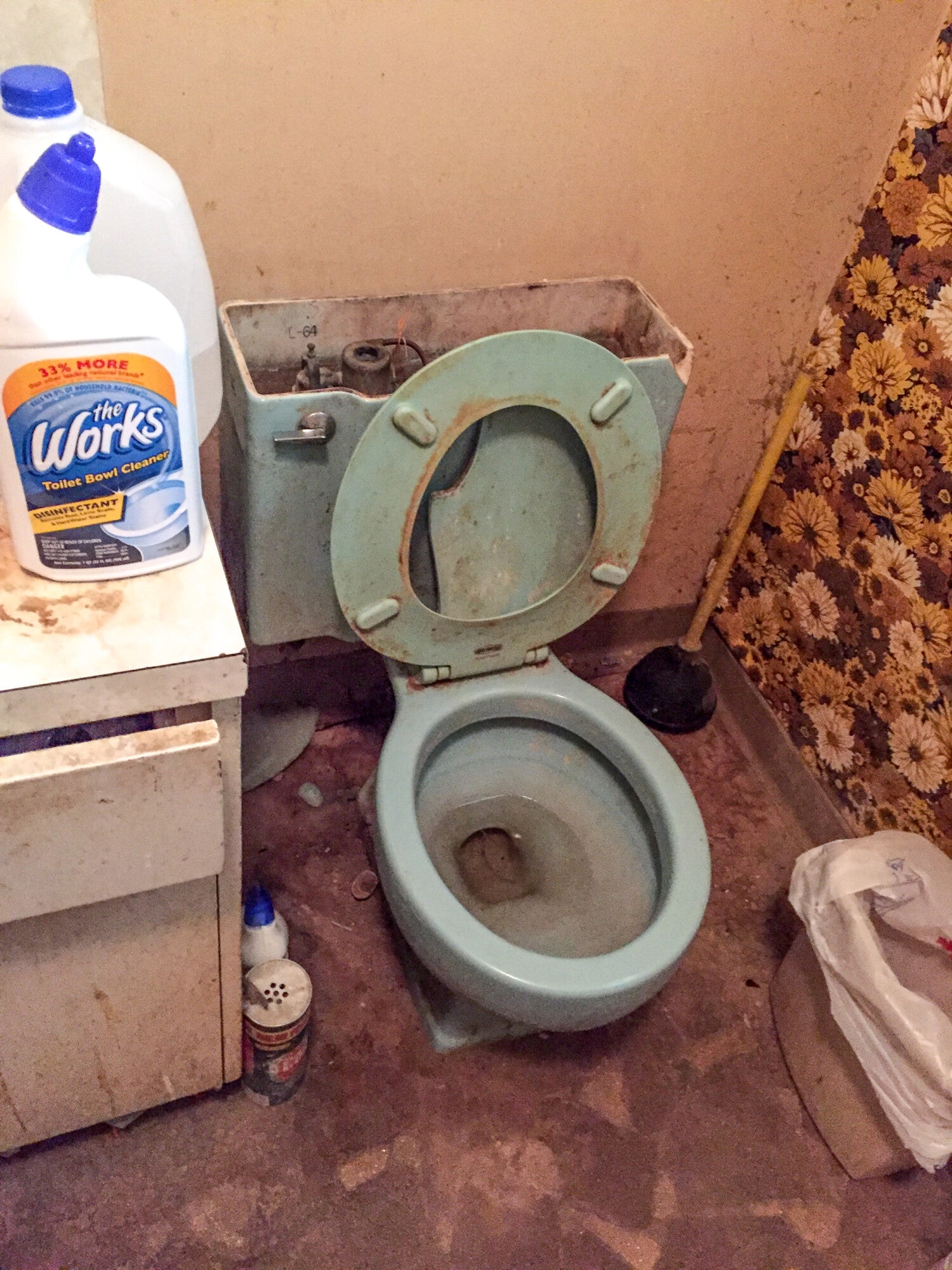 In 2016, Ammon and I lived in Michigan. We'd been there a while, had two kids and one on the way, and decided it was time for us to purchase our first home. We found a "too close to the busy road" fixer upper that most considered a total tear down. There were many things that were wrong with the house, but Ammon and I had a vision of what the house could, and would eventually become.
The House
You could tell this home was in a dilapidated state by using any of your five senses. You could visually see the mountains of trash. 99% of the stuff in there was unusable relics from a time long forgotten. The smell in the house was horrendous. If you spent any more than 20 minutes in the house it was mandatory to go home, change your clothes and shower. One wall had thick green shag carpet attached, which I can imagine was amazing to press your face against after having a bad day. It was now crusted with years of grime. Whenever the kids came over with me, I constantly had to project my voice to keep Taggart from putting anything he could find into his mouth. (Seriously, once Taggart dropped his pacifier onto the disgusting floor, and Ammon says I sprung into epic-movie-slow-motion-action to snatch it away before he could return it to his mouth). Little Aspen used the word "kaka" when describing the essence of the home, and that's where the name Kaka House came from.
Here are some photos from our initial walkthrough:
The front room with the green shag carpet wall.
Every room in the house was filled with junk. Books, magazines, old typewriters and more.
View from the front room into the kitchen and dining area.
Some very disturbing buildup on the bathroom switch and wall.
Demo Day
On day one we rented a big dumpster and filled it to the brim, but there was still so much more trash. Rather than get another dumpster, we decided Ammon would take loads of trash in our car to his work dumpster just before garbage day. In retrospect, I would just rent another dumpster to get rid of it all at once, but hey, 300 bucks is 300 bucks.
Clearing all the garbage out of the house.
Progress in the kitchen.
One of the many trunk loads Ammon hauled away.
Bathroom demo.
Smells Like...
After the trash and dust was cleaned up, we could still sense the ghost of dilapidated shag carpet in the house. The whole place still had a very distinct kaka-smell. I don't really know how to describe it, but it was awful. But if you ever REALLY want to know what it smelled like, Ammon still has a stinky jar of pennies he found throughout the house, in which the scent lives on. Come on over and give it a whiff!
To eliminate the smell, we used a volatile shellac primer on every remaining surface, sealing the scents and stains of the Kaka into the depths of eternity. The stuff worked really well! Not only did it seal away the kaka smell, but it also killed Ammon's scent receptors. Just kidding about Ammon's nose, but I kid you not that it was potent.
Front room painted floor to ceiling with stain-blocking shellac primer.
After we completely gutted the kitchen.
When It All Started Coming Together
After all the painting was done, and the smell was no more, we felt like we could finally see a light at the end of the tunnel. We had a huge sense of urgency about getting our house done because I was very pregnant. We only had about 2 months to finish renovations before my due date. At the time, we lived 25 hours away from our family, Ammon was working 65 to 80 hours a week and, as a pregnant mother with two little kids, I wasn't too helpful with renovations. Ammon spent most of his evenings putting in late hours of sweat equity into our home. It was so much work to take that house from an unlivable mess to a beautiful little home. Luckily, Ammon's little brother Nick came to the rescue, helping him finish the house just in time for little miss Helen to come and steal our hearts.
Flooring for the entire main floor going in.
Bathroom tile going down.
Some of the work we did on the house may have been a little janky (see the pictures below). But dammit, not only did we finish before Helen came, but we were proud of how the finished product looked. I feel I should mention that we made sure electrical, plumbing and foundation repairs were done by professionals. Ammon and I knew the limits of what we could safely and legally do on our own.
Our Dreams Come To Life
Here are the final results!
Can you even believe that's the same house?! We finally lived in a place we could truly call home. It was an incredible feeling. Ammon and I still look back at this project and both agree that this is one of our favorite memories. We've found that working together on projects like this is our happy place. We love taking on new challenges and figuring things out together. We take so much joy in the process and find even more joy in the finished product. We're now about to tackle our fourth home renovation and I can't wait to take you along for the journey.
What about you? Have you taken on any home renovations? Would you do it again? What other big projects have you taken on that revealed a new hobby or purpose for you? Give me the deets.
Love,
Abi