Taggart's Girl's Trip To Holland, Belgium, and France - Itinerary & Must Haves!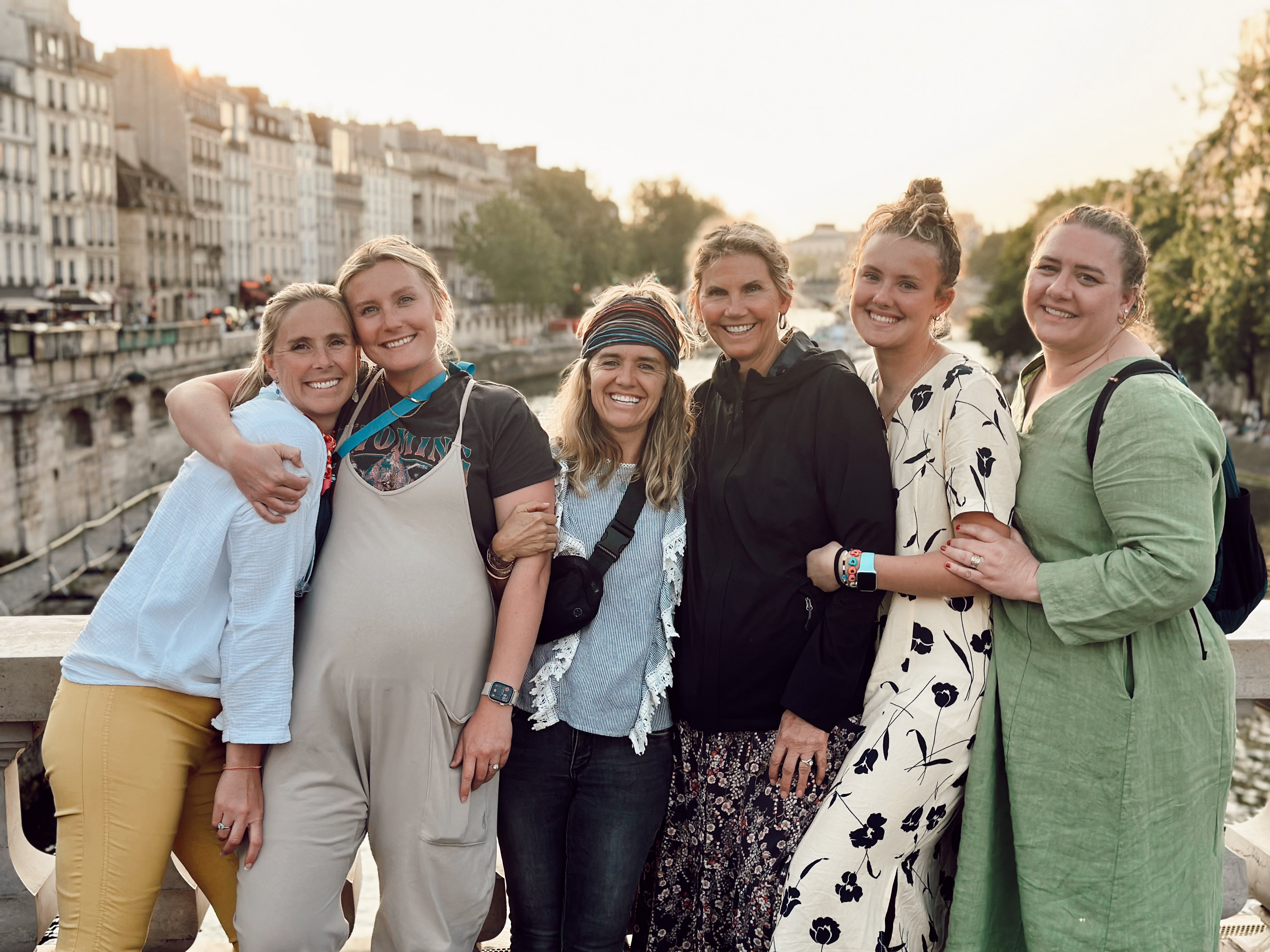 Traveling with the girls to Europe was top-tier fun! I recommend this trip if you have a crew of gals you're itching to travel with. Going in May is THE BEST! 
The weather was terrific the entire time, I like colder weather more than hotter, and I wore a coat in Amsterdam and Belgium. France couldn't have been better. Light sweater at night and linen all around! Also, good shoes are a must. I'll put links below to all the things we loved. Here is our full itinerary:
12-Day Seine River Cruise with Amsterdam & Bruges - Paris to Paris (Monarch Countess)
Here is the link to our exact cruise.
DAY 1, Monday - Depart for the Netherlands
Depart for the Netherlands
We got the direct flight from SLC to Amsterdam, which was the only way I would ever travel long distances again. NO layovers, FTW!
DAY 2, Tuesday - Arrive in Amsterdam
Welcome to Amsterdam, Holland's sophisticated and modern capital. Transfer to your hotel and spend the rest of the day at leisure.
Your tour will begin with an orientation meeting with your Tour Manager at approximately 6 PM, followed by dinner. We recommend that you select flights that arrive by 3 PM.
Overnight: Amsterdam
Beautiful, charming, and must-see city. The food wasn't the best, but I loved our hotel. 
DAY 3, Wednesday - Amsterdam City Tour
Today's panoramic tour of 700-year-old Amsterdam introduces you to this city's old and new sections. View the Royal Palace on Amsterdam's Dam Square, the king's official home-away-from-home. On to the Dutch National Monument dedicated by Queen Juliana as a memorial to the victims of WWII and the unusual Skinny Bridge, once so narrow that pedestrians could not pass each other. Then, board a glass-top boat and cruise the winding canals for an up-close view of the stately historic homes, 16th-century warehouses, and charming churches with striking bell towers. The rest of the day is free or join the optional Windmills & Edam tour. Then head north of Amsterdam to the Museum Mill. Here, visit an authentic windmill, see how the mill works, and meet a local miller. Afterward, travel to the town of Edam, best known for its famed cheese. View the leaning Carillon Tower, the 15th-century Grote Kerk (Great Church), and the town hall. Learn how Edam's world-famous cheese is made and enjoy a tasting.
Optional: Half Day Windmills & Edam (PM)
Overnight: Amsterdam
We loved the glass-top river cruise; seeing Anne Frank's house was incredible. I wish we would have been able to get tickets to go inside. They sell out months in advance. The Windmills & Edam Tour was a highlight! I recommend it! We got to try the cheese and see how the shoes are made. It was like living in a painting.
DAY 4, Thursday - Travel to Bruges, Bruges City Tour
Depart Amsterdam and travel through Holland's open fields, crisscrossed with canals and windmills to Bruges, also known as the "Venice of the North," and home to some of Europe's best-preserved medieval buildings. Embark on a tour of Bruges' medieval district with its charming squares and historic buildings. The walking tour includes the Lake of Love (Minnewater), the Beguinage Convent, the Market Square and Belfry, and the Town Hall Square with its Chapel of the Holy Blood. View Our Lady's Church, which houses the famous Madonna statue by Michelangelo. The balance of the day is at leisure.
Overnight: Bruges
I LOVED, LOVED, LOVED the hotel. The breakfast here was one of the best I've had in my life. So good. I wish we had walked around ourselves and skipped the morning tour. It was ascension day when we were there, and it was touching. Thousands of people came, and we got to see their annual parade. Also, you can't leave without trying the waffles and chocolate. 
DAY 5, Friday - Travel to Paris, Cruise Embarkation
Depart Bruges and travel to Paris. Arrive and transfer to the ship. Embarkation begins at 2 PM. After arrival formalities, time to relax on board. Meet your Cruise Director and enjoy dinner, as it sets the mood for your delightful river cruise.
Overnight: River Cruise
We ran over to the Eiffel Tower and strolled through the park. I bought a beret, and it was simply magnificent. We also got lost on the metro. 
DAY 6, Saturday - Arrive in Conflans, Auvers-Sur-Oise
This morning, we arrived in Conflans. Embark on a tour of the quaint town of Auvers-sur-Oise, and learn about Van Gogh's troubled life. View Ravoux Inn, where he rented a room and spent the final months of his life. During his time in Auvers-sur-Oise, Van Gogh was prolific and painted over 70 works. View the cemetery where he is buried and return to the ship for lunch. This afternoon, join the optional tour to magnificent Versailles to witness the grandeur of French classical architecture.
Optional: Palace of Versailles (PM)
Overnight: River Cruise
We loved the Van Gogh tour! Just amazing. And Versailles… What can I say?! It was simply incredible. We first went to the gardens and then to the castle… is it called a castle? We could have spent a week just there. So much to see, and it was all breathtakingly beautiful. I can't believe that was their summer home. Make time to go here. 
DAY 7, Sunday - Les Andelys
Enjoy an informative presentation on Château Gaillard this morning as the ship sails towards Les Andelys. Disembark and head up to Château Gaillard, built by Richard the Lionheart. Explore the grounds and admire the panoramic views of the Seine and the charming town at the foot of the hill before returning to the ship. On board, attend a lecture on the life of Joan of Arc to prepare you for tomorrow's visit to Rouen.
Overnight: River Cruise
This little stop was beautiful, but I wouldn't go here if we weren't on the river tour. It's a beautiful town but not much to do or see—just a quick stop. 
DAY 8, Monday - Morning Tour of Rouen
This morning, take a walking tour of the medieval quarter of Rouen. View the Gothic Notre Dame Cathedral that inspired Claude Monet to paint the cathedral series and the famous Gros Horloge, a 16th-century astronomical clock. Walk through the cobblestone streets with half-timbered storybook houses and view the courthouse and the Market Square where Joan of Arc was martyred. The afternoon is at leisure, or join the optional Half Day Honfleur. Discover the historic city of Honfleur. View Vieux Bassin, the old harbor with its half-timbered houses and colorful boats, Church of Saint-Etienne, Sainte-Catherine Church, built entirely out of wood, and the Lieutenancy, an ancient medieval fortification. Conclude the tour with a tasting of local cider and fresh crepes.
Optional: Half Day Honfleur (PM)
Overnight: River Cruise
My least favorite town was Rouen. It was dirty, and the feeling was kind of… off. I don't know why, but that is just my honest opinion. Seeing the Joan of Arc locations and learning about her was fantastic, though. She was a true heroine. 
DAY 9, Tuesday - Full Day in Rouen
Spend the day at leisure in Rouen to further explore this historic city. Consider visiting the riverfront Panorama XXL, Art Museum, and Tour Jeanne d'Arc, or join the optional full-day tour to Normandy Beaches. Visit St. Mere Eglise on the Cotentin Peninsula, where
the Allied invasion began. Explore Utah Beach, then stop at the Ranger Memorial at Pointe du Hoc. Continue east to visit Omaha Beach and the Normandy American Cemetery and Memorial site. The cemetery covers 172.5 acres and contains the graves of 9,387 American soldiers
Optional: Full Day Normandy Beaches with Lunch (AM)
Overnight: River Cruise
I stayed back because my body needed a break, but my mom and sisters went to Normandy, Utah, Omaha Beaches, and Mont-Saint-Michel, which was a highlight for all of them. 
DAY 10, Wednesday - Vernon, Giverny
Arrive in Vernon this morning and disembark the ship for your excursion to Giverny, home of Claude Monet, one of the world's greatest impressionist painters. Walk through the famous gardens that inspired many of his masterpieces, including his famous "water lilies" paintings. In the afternoon, free time to discover Vernon before you set sail for Paris
Overnight: River Cruise
Giverny was just incredible. It was crowded, but so so so beautiful. I 10/10 recommend going there. I can see why Monet moved there. 
DAY 11, Thursday - Panoramic Tour of Paris
Begin the day in Paris, the City of Lights, with a panoramic tour, including a drive along the Champs Elysées to the Arc de Triomphe. View the iconic Eiffel Tower, Les Invalides, the Latin Quarter, and the lively Opera District. Spend the afternoon at leisure, or join the optional half-day tour to Montmartre. Explore Montmartre with its bohemian vibe. View the Moulin Rouge and
walk along the winding lanes to mingle with street artists selling their wares at Place du Tertre. Spectacular city views await you from the steps of the Sacré-Coeur Basilica. Afterward, enjoy a drink at a local bistro.
Optional: Half Day Montmartre (PM)
Overnight: River Cruise
We ended up leaving the tour and doing our own thing instead. We went to the Latin Quarter, Montmartre, where we had our portraits drawn. We also hit up Place du Tertre. We took our time exploring the city and bought many fun souvenirs. It was beautiful.  
DAY 12, Friday - Louvre and Beyonce!
We got an Airbnb near the Arc de Triomphe that fit all 6 of us really well. We went to the Louvre and spent a few hours there - again, we could have spent all day - It was glorious. We took a quick nap and headed to the Beyonce concert at the Paris La Defense Arena.  
DAY 13, Saturday - Le Puce à l'oreille
MY FAVORITE THING OF THE WHOLE TRIP AND THE REASON THIS ENTIRE TRIP HAPPENED WAS BECAUSE OF LA PUCE!!! I could have spent a week there, maybe longer. I bought all of my doors for the house and a huge mirror. I even stayed on budget and was in my happy place. We ate lunch there, and it was the best meal I've ever had. It was Farro Risotto Primavera, and I will try to recreate it.  If I can make it taste good, I'll share the recipe. After the Puce, we went to my favorite museum, Musee d'Orsay! So incredible, and I recommend it 10/10. 
DAY 14, Sunday - Depart France
We stayed the extra two days because we wanted to soak in Paris. The tour didn't have much time there. My biggest goal was to go antiquing with my mom like she did with her mom. It was magical and, honestly, one of the best trips I've been on. 
Here are our favorite links:
These were the best shoes ever. My mom said she kept reaching for them every morning. She got them six years ago and has traveled to many places with them. I couldn't find the exact ones, but this was as close as possible.
Every single one of you (okay, not everyone) asked for these pj's! I wore them every night, and I love, love, loved them.
 These rompers are everywhere. I am still not convinced I like them or not. Everyone kept asking for the link, so here it is!
Emily showed up with all of the best dresses! Every day I got questions about her clothes. She can wear them 30 weeks pregnant, and she can wear them not pregnant. This was the most requested; the others were bought second-hand or in Spain.
I got this sweater and loved it!!! My mom tried it on, too, and she bought two. I may buy another, too! It's a bit big, so size down, but I like it big. 10/10 and a classic you'll have for years.
My mom convinced me to buy this backpack. It can shrink down to the size of your hand. It's light and almost like wearing nothing. We used it every day in France.
These adapters came in handy more than once. Everyone bought one by the end of the trip! So small and it has the two outlets we used most.


SHOES!!!! I ordered three different pair. I ended up with these, and I am so grateful. They look like a 65-year-old man's shoe, but they know what's up! So comfortable and sturdy.
This is a cover-up, but I loved it as a long shirt. It was so light and breathable!
I must repost this link because I love it even more now. My favorite two-piece set! Sooooo good. I got so many compliments. It's a little long, so I will have it hemmed, but other than that, gold! 
This sweater was incredibly soft and breathable and stretchy. I am going to get another one. It's excellent quality too. 
One of the most requested links was this pink romper with the shorts! So good!
These packing organizers were a LIFE SAVER!!! How did I not know about these? I will not travel without them. 
Daily sunscreen gel broad spectrum SPF 30
This Sunscreen was incredible. I love it so much, and taking it to France convinced me even more of how much I love it. It wasn't greasy; it lasted all day; it was light and simply THE BEST FREAKING SUNSCREEN EVER!!! Code abiayres for 15% off. 
I also posted my favorite spots on the app Out of Office. I give all the recommendations of where to go, what to do, a few restaurants and put some pictures and descriptions! It's an excellent app.
Xo,
Abi
What did we miss? I want to hear in the comments your favorite spots!