Strawberry Banana Muffins with Thrive Life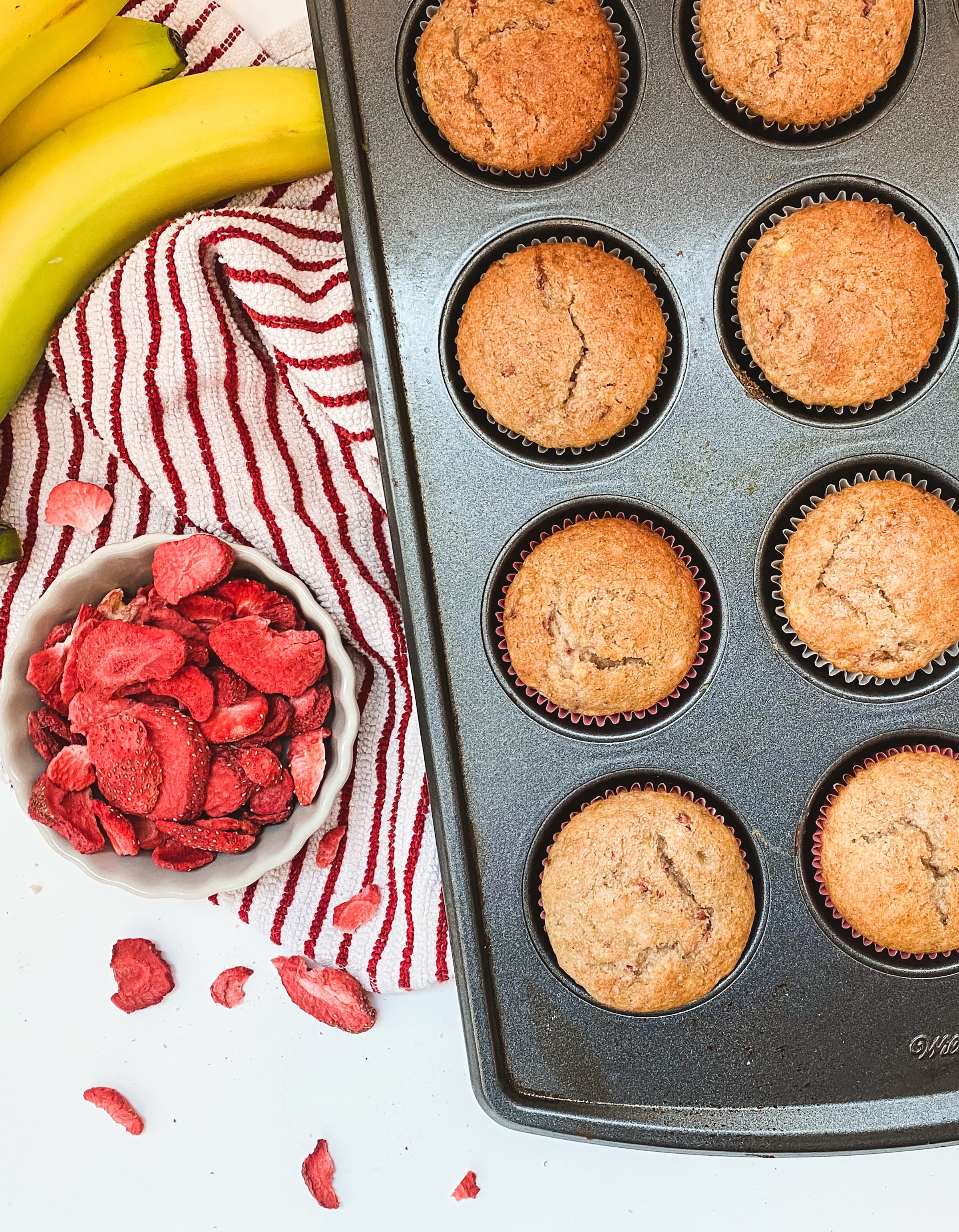 Lately I've been experimenting with Thrive Life and trying to incorporate it more into my daily cooking. It all started a few months back when I had a craving for some chocolate pudding with strawberries. It was the perfect place to try Thrive Life freeze dried strawberry slices. I broke them up, mixed them in, and let the pudding rehydrate them. It was soooo good! Since then I've become a scientist in the kitchen, finding ways to use Thrive Life fruits in all sorts of ways. 
One of the best ways I've used the strawberries has got to be when I mixed them into my Grandma Helen's banana bread recipe (we all know how good that recipe is). I decided to turn it into strawberry banana muffins this time, so I just pulverized a handful of strawberries, threw them into the batter before baking and – VOILA! – a masterpiece that my kids and I both love! I couldn't wait to share this recipe with you, so here it is!
---
STRAWBERRY BANANA MUFFINS
Ingredients
3 ripe bananas, mashed
1 cup of Thrive Life strawberries
½ cup vegetable oil
1 cup sugar
¼ cup sour cream
2 eggs
2 teaspoon vanilla
2 cups flour
½ teaspoons salt
½ teaspoon baking soda
2 teaspoon baking powder
1 cup chopped walnuts or pecans, optional
Directions
Mash bananas and pulverize strawberries to a powder.
Hand mix to combine bananas, strawberries, vegetable oil, sour cream, sugar, vanilla, and eggs.
Mix in flour, salt, baking soda, baking powder, and chopped nuts.
Pour into prepared muffin tin and bake for 18-20 minutes at 375°
---
More Ways to Use Freeze Dried Strawberries
Strawberry slices are part of Thrive Life's specials this month, so if you've been looking for a good time to try them out, this is it! I love that they're so versatile! Here are just a few more ways you can use them:
Blend them into your favorite smoothie.
Add them to your morning cereal.
Crush to a powder and use them to naturally flavor (and color) frosting or whipped cream.
Add them to cake batter.
Mix them into your favorite trail mix.
How to save on Thrive Life:
Orders over $100 get free shipping.
Save 15% when you sign up for monthly delivery.