Sip into Autumn: Cozy Warm Drinks for Fall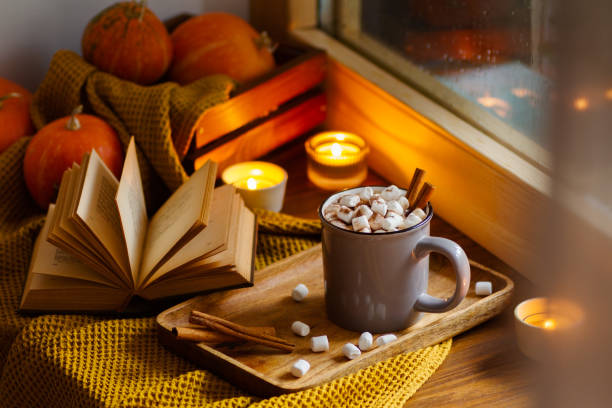 As the days get shorter and the air grows crisp, there's no better way to embrace the magic of fall than by cozying up with a warm, comforting drink in hand. Whether you're looking for a soothing tea, a spiced latte, or a sweet apple-infused concoction, we've got you covered with these delightful fall-inspired drink recipes. Let's explore how to make these delicious sips that will keep you warm and content during autumn.
To make the most of these recipes, I highly recommend using a milk frother to warm your milk. Here is one I recommend: Milk Frother 
Bengal Spice Tiger Tea
Bengal Spice Tiger Tea Concentrate
Ingredients:
- 8 cups water
- 12 bags of Bengal Spice Tiger Tea
- 1/4 cup maple syrup
Directions:
Add water to a 3-quart pot and bring it to a boil.

Remove the pot from heat and add the tea bags.

Let the tea steep for 10 minutes, allowing those warm fall spices to infuse.

After steeping, remove the tea bags and discard them.

Pour into a large pitcher, then add the maple syrup and give it a good stir.

Store this delightful concentrate in the fridge, and it'll be ready whenever you crave a warm cup of Bengal Spice Tiger Tea.
Bengal Spice Iced Tiger Tea
Ingredients:
- 1/2 cup frothed milk (oat works best as a non-dairy alternative) 
- 1/2 cup Bengal Spice Tiger Tea Concentrate
Directions:
Heat ½  cup of the Bengal concentrate, and froth ½ cup of milk. 

Next, pour a 1:1 ratio of your prepared tea concentrate and milk into the mug. Give it a gentle stir to blend the flavors.

If you're feeling extra indulgent, go ahead and top it with a dollop of cream.
Variation: For a "dirty" Iced Tiger Tea, create a slurry by mixing 2 tablespoons of Pero with 2 tablespoons of water, then add it to your tea and milk.
Blackberry White Hot Cocoa
Ingredients:
- 1 tablespoons Pero
- 2 tablespoons Stephen's white chocolate cocoa powder
- 1 oz hot water
- ½  tablespoon blackberry puree
- ½  cup milk
- ½  tablespoon heavy cream
- Whipped cream for topping
Directions:
Start by mixing the hot cocoa and Pero together in a mug. 

Add the hot water to the mixture and dissolve it into a slurry.

Drizzle the blackberry puree around the inside of the mug. 

Now, it's time to froth the milk and pour it in. 

To make it even more decadent, top it off with a dollop of heavy cream and whipped cream.
Caramel Apple Pie Delight
Ingredients:
- 5 oz Simply apple juice
- 1 oz cream
- ½ oz Ghirardelli caramel sauce
- ½  oz heavy cream
- 1/8 teaspoon apple pie seasoning
- Whipped cream for topping
Directions:
Begin by drizzling the luscious caramel sauce around the inside of a mug. Then heat the apple juice for about 1:30mins

Add the apple juice, apple pie seasoning, and cream, stirring well to blend those wonderful autumn flavors.

Top off this delightful treat with a generous dollop of whipped cream, an extra drizzle of caramel sauce, and a sprinkle of apple pie seasoning for the perfect finishing touch.
With these delectable fall-inspired drink recipes in your repertoire, you're all set to savor the flavors of the season. Whether you're enjoying a tranquil afternoon at home or hosting a cozy gathering with loved ones, these warm beverages will keep you snug and content as you embrace the beauty of autumn, one delightful sip at a time. So, gather your ingredients, cozy up by the fireplace, and sip your way into the heart of fall.