Adult Family Staycation in Provo, UT – Taggart Family Trip 2023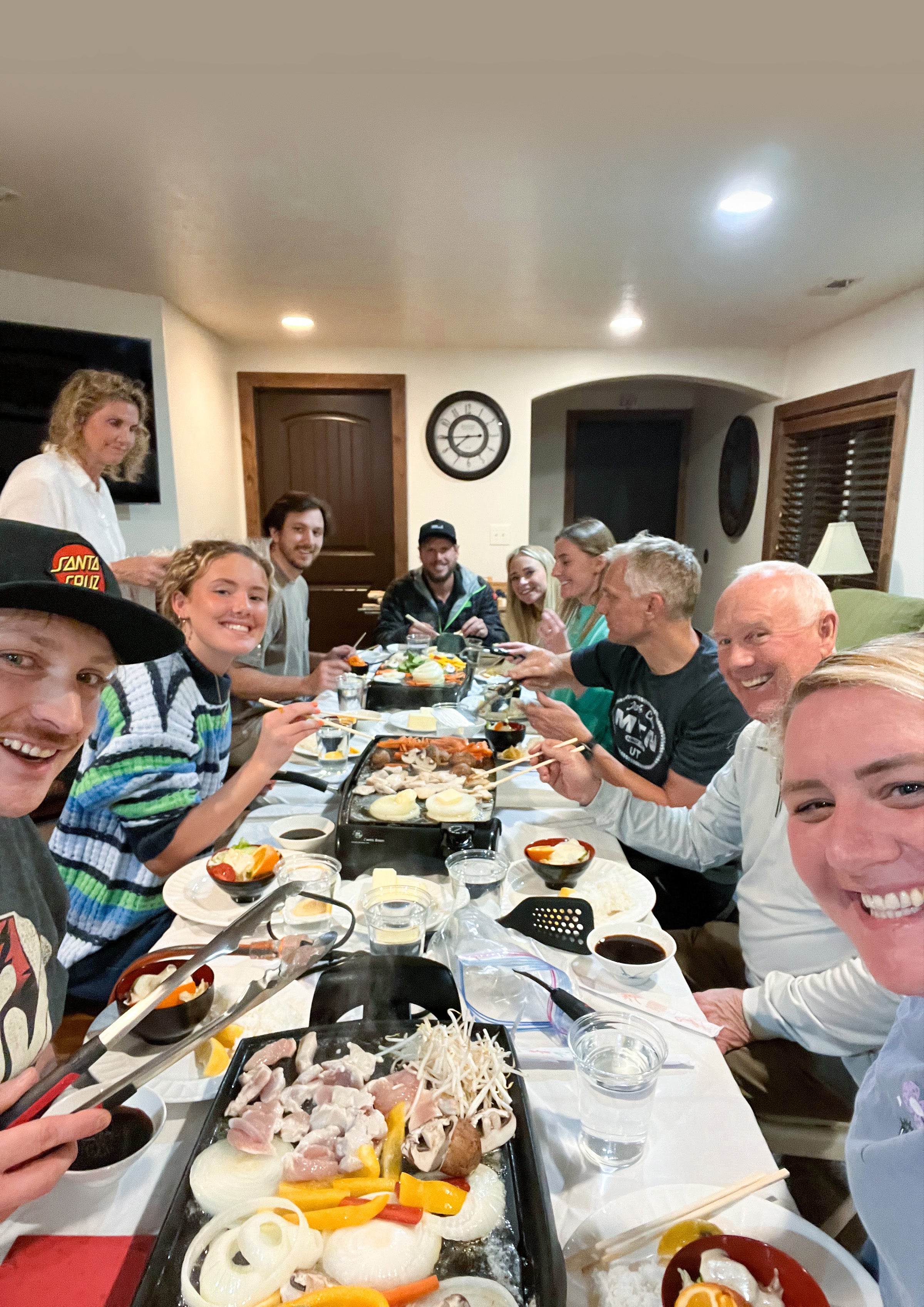 So many of you asked for the details of our adults-only trip with my side of the family earlier this month! We had the BEST time. My mom had asked each of us to prepare something that would teach everyone or entertain everyone. We all contributed, and honestly I can see myself doing this with my own children when they're grown someday. 
Here's a recap of the trip!
Day 1 - Temple, Archery Tag & DIY Hibachi 
First, we went to the temple as a family. Some people in our family don't attend the temple, so those of us who wanted to join in did, and we met up with the others later. I got a ton of questions about what we did there and what a sealing is. The temple is a place of worship. We do vicarious work for those who have passed on. We connect with God. We make covenants with God and we seal our families together for time and all eternity, not just for this life. You can learn more about what goes on in the temple here.
After the temple, we met up at Easton Archery near the SLC airport, where we played this game that was basically dodgeball but with arrows. They call it Archery Tag. It was honestly so freaking fun! I know, it sounds exhilarating. It was. And it was a great workout if you're looking for a fun way to exercise with a group. I'll definitely be going back! It is best to go with a large group, I'd recommend eight or more.
Then we headed down to Provo, more specifically Vineyard, UT. My parents booked an Airbnb on the golf course down there with plenty of space for all of us. My mom had set up an incredible Hibachi-style experience for dinner when we arrived. I'm going to create a whole separate blog post for our dinner because it was not only fun, but interactive and delicious and healthy. A terrific meal for a big crowd. 
After dinner, we played games and just hung out. All of us girls got into bed and talked for hours. We got to know Dee and fell more and more in love with her. She is honestly so great. Sam better not mess this up. ;) 
Day 2 - Devotional & Meditation, Extreme Scavenger Hunt, Ammon's Epic Survival Game
First thing in the morning was a devotional, hosted by my dad. We talked about a book called Original Grace by Adam Miller, an LDS book geared toward thinking in a new way. I loved it. Honestly loved it. I found myself getting uncomfortable because I knew I was learning something new and needed to change my thought process when it comes to sin. When Jesus came to earth he taught us to turn the other cheek, what does that actually mean? This book talks about giving good to good and good to bad. When someone does good, give them good. When someone does bad, give them good. It sounds hard, and it is. When someone is cheating on their spouse and you know about it and are judging them, you're the sinner too. Or when someone does wrong to you, you should give them good back. (It's freaking hard and annoying! Where is the justice!? Well, that's not ours to give…) It's a deep dive y'all. Good luck with that one. 
After the devotional we did a guided meditation, led by Dee. Most of us started crying because we had just finished that devotional that called all of us out for being judgemental. Hahahaha. Following the meditation, we did some breathwork, led by Sam, which was insane. We had to hold our breaths for so long I was sure someone was gonna pass out. I kept checking on my dad, but he fell asleep before it even started :) Then Emily led us in a High Fit class that majorly kicked my butt. She is amazing. I don't know how she literally jumps around for an hour teaching people this stuff.
After our morning at home, we got ready and embarked on a full blown Scavenger Hunt, hosted by Kelli and Lorin. We broke into teams of four and had to complete challenges, which we filmed for proof of completion. Whoever got back to the house first, won. 
The challenges were:
Find someone in Walmart or Target to do a TikTok with them. 

Ask someone these three questions – if they answer any incorrectly, move to another person. The questions were:

 What are the four oceans of the world? 

Name five Disney Princesses. 

How many days does it take for the earth to orbit the sun?

Someone from the team had to bowl until they got a strike. 

Next was a food challenge: eat 12 doughnuts or 2 Betos burritos, between the four of us. 

Last one was to run a lap around a high school track. 
(The doughnuts made everyone sick and I ended up throwing up that night. Gah!)
That night, we went to dinner at a pizza place, then came home and played Ammon's game! Holy cow! None of us were expecting what he pulled out of his hat. Ammon planned a whole survival game that was so dang fun! He's going to help me get it all put together into a blog post so you can play too. It was a mix between Survivor and just random challenges. We all LOVED it!! Things got heated, because hello, we are Taggarts, but that wass what made it so funny and fun. Sophie and I got out in Round One. Lance (Emily's husband) was the ultimate winner.  
Day 3 - Skiing & Brazilian BBQ
Ski day!!! We all skied together, it was wonderful. It's been so long since I've gotten to ski. Remember the last time I went and pulled my MCL on the freaking baby magic carpet pull rope on the kiddie hill? Yeah, that was so fun, not. I loved being on the mountain with my family. It brought back so many memories of my childhood skiing with them. It was a bluebird day too! Couldn't have been better. 
That night we went to Rodizio Grill, which is Brazilian BBQ. Sooo good! Afterward we went back to the house and played games and hung out. Nothing crazy, just really relaxing.
Day 4 - Go-Kart & Mexican Food
We had a slow morning checking out from the Airbnb, then went go-karting at The Grid. Most of us agreed this was in our top three of the whole trip, it was so freaking fun. I couldn't stop laughing going around the track. You guys, these karts were SO fast! We had two rounds planned, but the power went out right as we finished our first round, but it was actually perfect… I was getting a little dizzy from all the turns. 
We ended the trip with lunch at an amazing Mexican restaurant in American Fork called Sol Agave and it was *chef's kiss* good! 
All in all, this trip proved to me that you don't have to go far from home to have a blast. And the free things we did, especially games and conversation, were just as much fun as activities we paid for. I loved every bit of this trip! Can't wait for the next one. 
Can you see your family ever doing a trip like this? And what's your favorite thing to do in the Salt Lake/ Provo area, free or paid? I'd love to hear in the comments.
XO Abi