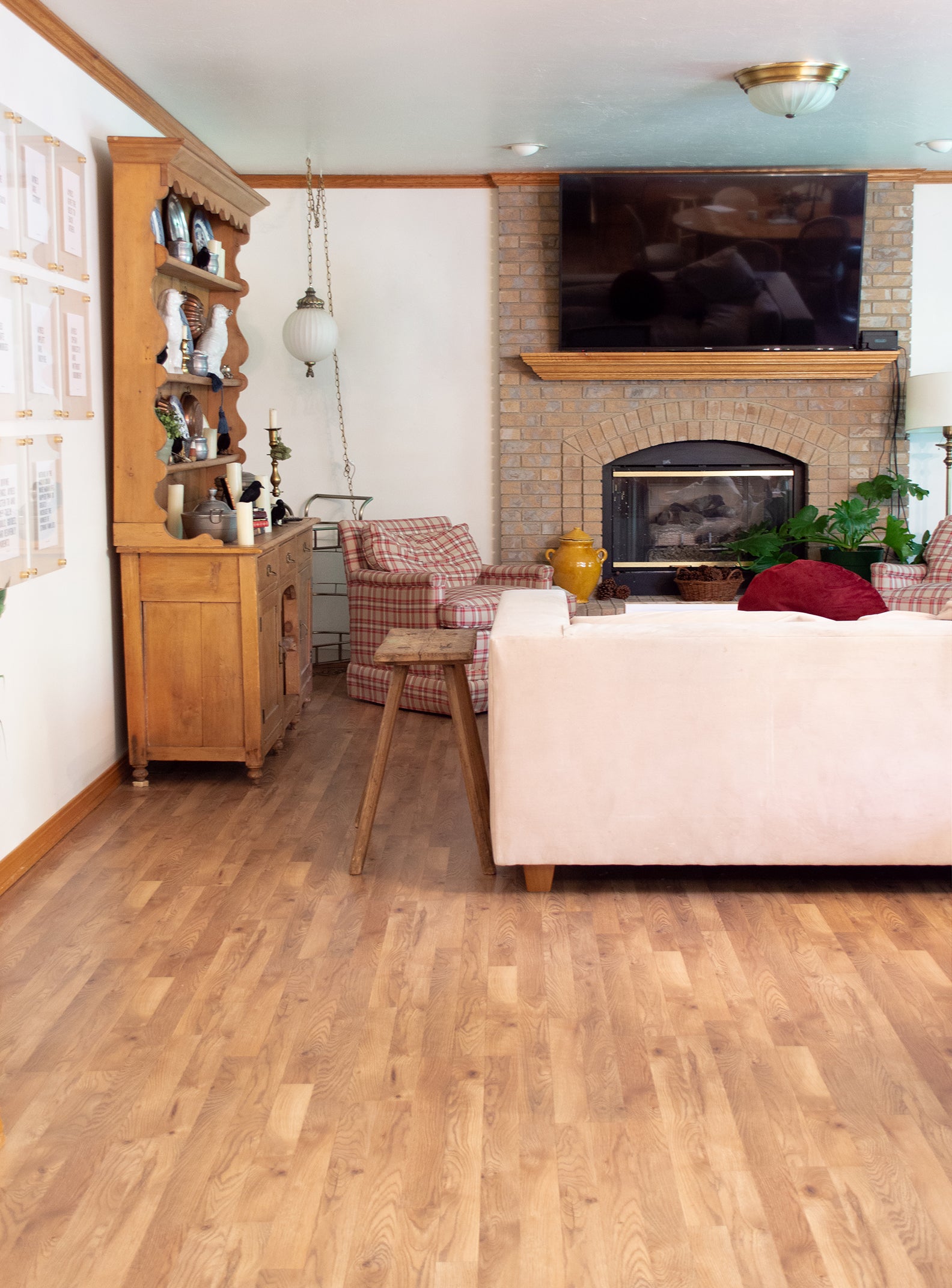 As you know, we're holding off on the major home renovations we had planned, so we've been doing a budget-friendly refresh to tide us over for a while. One of the first things we HAD to change about this house was the flooring in the main living areas. I just couldn't put up it any longer. There was carpet in the kitchen, for crying out loud! 
When deciding what kind of flooring to put down, we had 2 main priorities:
1. It had to be hard flooring. We'd been living with that carpet in the kitchen for two years and with 3 young kids, you can probably imagine how well that had worked out. An upgrade was definitely overdue. 
2. It had to be cheap. This new floor isn't going to be here for very long. When we do our big renovation, we'll be changing the entire footprint of our home and these rooms will be taken down to the studs. It doesn't make sense to put down expensive flooring when it's not going to be here for more than a year or two.
We went out and purchased the cheapest laminate flooring we could find and got to work. And let me tell ya, you get what you pay for. The material looked nice, but it was unforgiving when trying to force it into place. Like, we couldn't even use a soft mallet during install (like you're supposed to) or the planks would break. Because it was so finicky and difficult to maneuver, we ended up having to remove all the door jambs just to get it installed. It took us at least 3 times longer to install than it should have. I won't even tell you what brand we used, because I wouldn't wish it upon my worst enemy, (I'm a people pleaser, so I want my enemies to like me, too), and also because it was on clearance and is no longer available.
Now that it's installed, the floor is amazing! Was it cheap? Yes. Is it going to hold up for longer than a year or two? Probably not. But our home functions so much better than it did before! This home is finally starting to reflect our family and our style. 
We've installed laminate flooring (as well as LVP and hardwood) in many homes over the years. If you have quality material, you can completely transform your space in just one weekend. If you plan to install laminate, the flooring we recommend for quality and price, is Mohawk from Costco. It's been a tried and true brand for us.
xoxo,
Abi