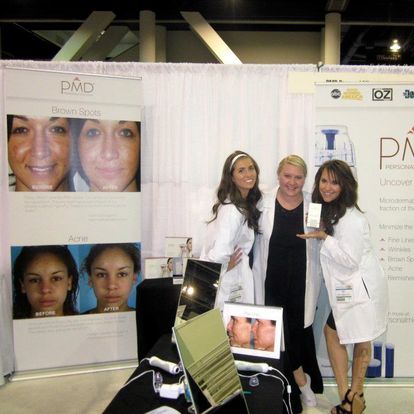 Me, traveling the country, working for and selling PMD!
In 2009 my parents moved from California to Salt Lake City. It was during the huge economic crash and my dad was in real estate development so it was a really hard time for him. He'd bought into a handheld microdermabrasion device years prior and he decided to start a company producing and selling the device. He didn't have much to lose at this point. Over the next year or two he created the product, tested it, and got it to market pretty much all on his own. As I look back on it now, I can't help but be totally amazed because now it's huge and has had a ton of success. My dad literally started it in my grandma's basement. I remember going over to her house and seeing my dad working away there, trying to make this dream a reality. Over time, as the company grew, he moved to a little one-room factory. He slowly built it from the ground up, which was an incredible thing to see. Ammon and I got married in 2010, when I had just graduated from college and Ammon was just starting college. We were so poor and no one was hiring. I decided with my mom that we would go around to all these trade shows and sell the Personal MicroDerm tool to women. We started our own little company called My Skincare Favorites. We hired about five or six reps who came with us to sell this microdermabrasion tool. It was so fun! I loved being with my mom, working with her, and just traveling all over together. We went to shows in places like Florida, New York, Chicago, Arizona and California. The shows were huge and had hundreds of vendors. We'd we'd set up our little booth and personally talk to consumers passing by. We'd tell them all about this PMD tool and why they needed it. It was so cool to kind of be the front liners for PMD. We proved that it was an actual, sellable item that people loved. We were there, face-to-face with the consumers, helping them see and understand all the benefits the tool could provide.
After about a year of working with my mom at My Skincare Favorites, I asked my dad if I could come and start working directly for PMD. I had proven I could sell it and I was knowledgable about the product, and I knew I was ready for more. He and his partners agreed to hire me. I continued doing trade shows for the company but started moving into more of an accounts and trading role. I went to companies like Neiman Marcus and Nordstrom to help get the PMD sold in their stores. I sold at Costco and I trained many representatives how to sell the PMD. I showed them how it worked, how to show consumers how it worked and all the benefits it had for skin. It was such an amazing opportunity. This was right at the time when influencers started becoming influencers. This was when Instragram was just getting big, so we literally built PMD using influencer marketing and finding bloggers and YouTubers to post about PMD. I learned so much working at PMD for four years. My time there was invaluable in learning how the other side of business works; building a company, the pros, the cons, the wins the losses.
I actually love using the PMD and I know it's effective! It's a tool that you can see working immediately. You can instantly see the dead skin coming off of your face. You can immediately feel all the oils and lotions penetrating into your skin and I love that. I loved being able to sell a product I know works and has changed people's lives. I had scarring on my cheeks and after using the PMD, it lightened dramatically. If you actually use it consistently it can make a huge difference in your skin.
Within a few years of starting PMD, my dad was getting close to retirement age. He loved what he was doing but he felt it was time to phase out. He was actually called on a mission for our church, The Church of Jesus Christ of Latter Day Saints, as a mission president in New Jersey with my mom. This meant they had to leave Utah for three years. He stepped away from his role at PMD, but still owned part of the company as more of a silent partner. Since then, the company has continued to grow in big ways. It's been incredible to see my dad's vision continue to grow and for the company to move even beyond that to what it is today. If someone were to start using PMD I would always recommend starting with the PMD Classic. The PMD Elite is really amazing too, so really start with either one of those two. I would definitely get the moisturizer as well. You can't just use the PMD alone, you have to put the creams and lotions on after, otherwise you don't see the full effects. The PMD comes with multiple microdermabrasion discs with varying intensity levels, so I'd recommend starting with the smallest disk, which is white. If you have very sensitive skin you use the white, and as time goes on you can continue to build up and use the strongest disc. That same idea goes along with how frequently you use it. You might start with once a month and later start using it once every other week and so on. It all depends on your skin type, so just take it slow. Everyone is a little bit different. That's the cool thing about the PMD, it caters to all skin types. You just have to kind of figure it out for yourself. Below is an IG live I did with my dad a few months ago where we talk all about the PMD tool, my favorite products PMD Beauty sells, more details about how my dad started the company and in the video I show you how I use the tool! Abi25 will get you 25% off anything site wide. I hope you enjoy using these products and I know they can change your skin for the better!
View this post on Instagram