My Favorite French Toast, As Seen In Cookbook For Jane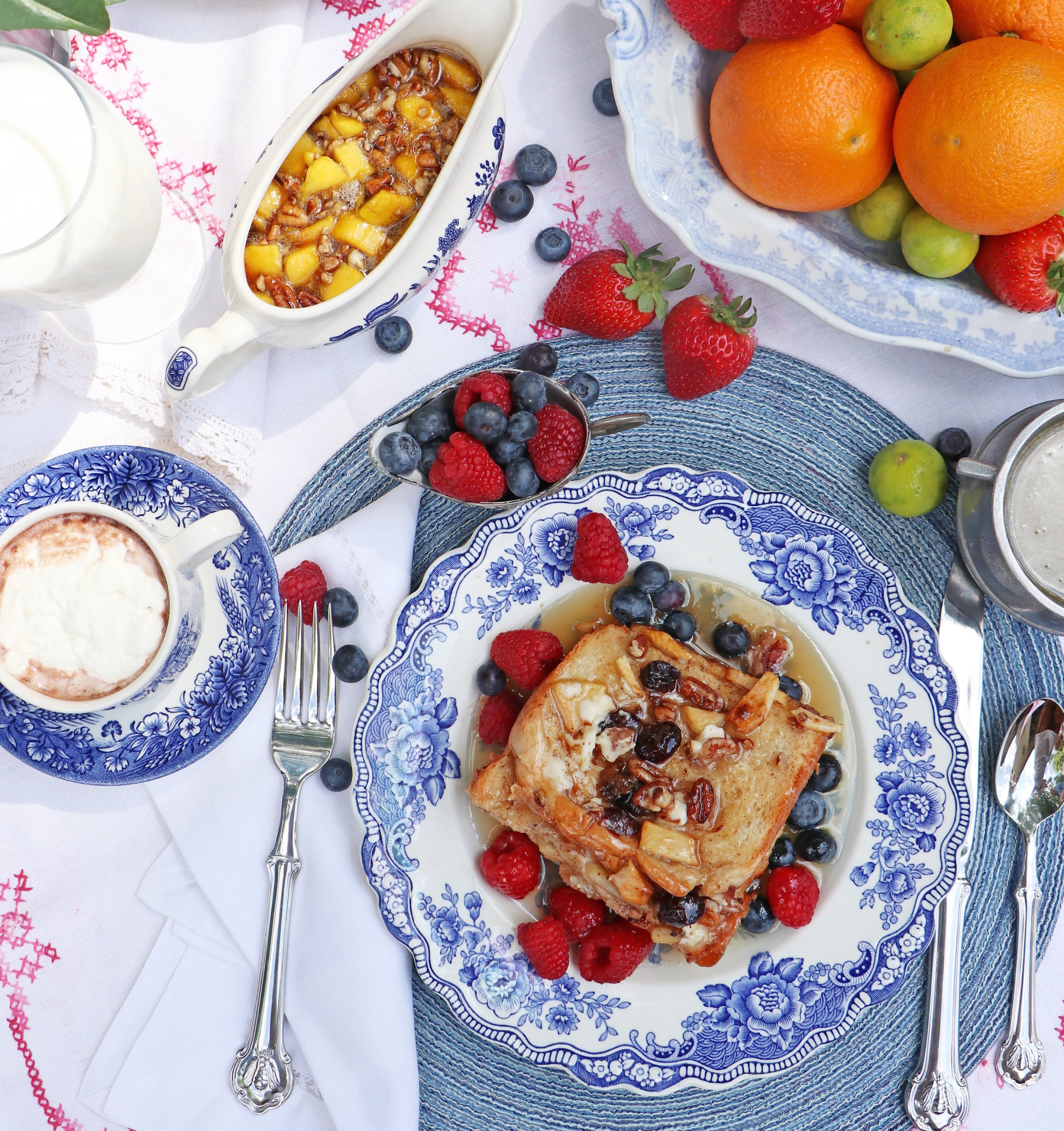 I've always loved any kind of French toast, but my all-time favorite has to be the kind stuffed with sweet, fluffy cream and topped with mango and pecan syrup. You can find the recipe I love in my Cookbook for Jane (alongside like 182 other favorites)! You can also find it........... right here! YAY! My family's love for this dish was born back in Cabo San Lucas in 1998... *cue flashback*
My brother Spencer and me
It was an unforgettable trip. We 4-wheeled in sand dunes, visited the famous Arch of Cabo, drank Pina Coladas by the pool, and played tennis together every morning. But even with all of that, going to this hole-in-the-wall joint for Sunday brunch was one of my favorite things about the trip. There, we had one of the most unforgettable meals I've ever had.

We've been able to relive that memory time and time again by recreating this delectable dish. It's the perfect blend of sweet mango, nutty pecans, creamy cheese and sugary, smooth syrup that will have your taste buds thanking you...for years. I'm so excited! Let's get started!
Cabo Stuffed French Toast with Mango Pecan Syrup
Filling
8 ounces cream cheese
softened1/4 cup whole milk
1/4 cup sugar
French Toast
1 loaf Texas Toast, 10 slices
6 eggs
1 cup whole milk
2 teaspoons vanilla
2 tablespoons sugar
1 pinch of salt
Directions
Make filling by whipping cream cheese, milk and sugar together until smooth. Set aside.
Cut each slice of Texas toast bread in half, like a bagel, but leave 1 edge attached. Spread cream cheese filling in between the sliced bread and close like a sandwich.
Preheat griddle to medium heat.
Mix eggs, milk, vanilla, sugar, and salt together in a shallow bowl. Dip the bread into the egg mixture, covering both sides, and cook on a greased griddle. Butter the griddle between each batch.
Serve with Mango Pecan Syrup
Mango Pecan Syrup
1/2 cup salted butter
1 cup brown sugar
3 tablespoons corn syrup
1/2 cup maple syrup
1 mango, diced
1/2 cup pecans, roughly chopped
Directions
Bring butter, brown sugar, corn syrup and maple syrup to a boil.
Add mango and pecans and reduce heat to low. Serve warm over French toast.
Mmmm, the Mango Pecan Syrup really is the perfect finish for this nostalgic beachfront breakfast. I love spending mornings with my favorite people. This French toast makes us want to take our time, enjoying each other's company and a good meal. Family is number one. Happy cooking!
xo,
Abi