Family-Friendly Meal Prep Recipes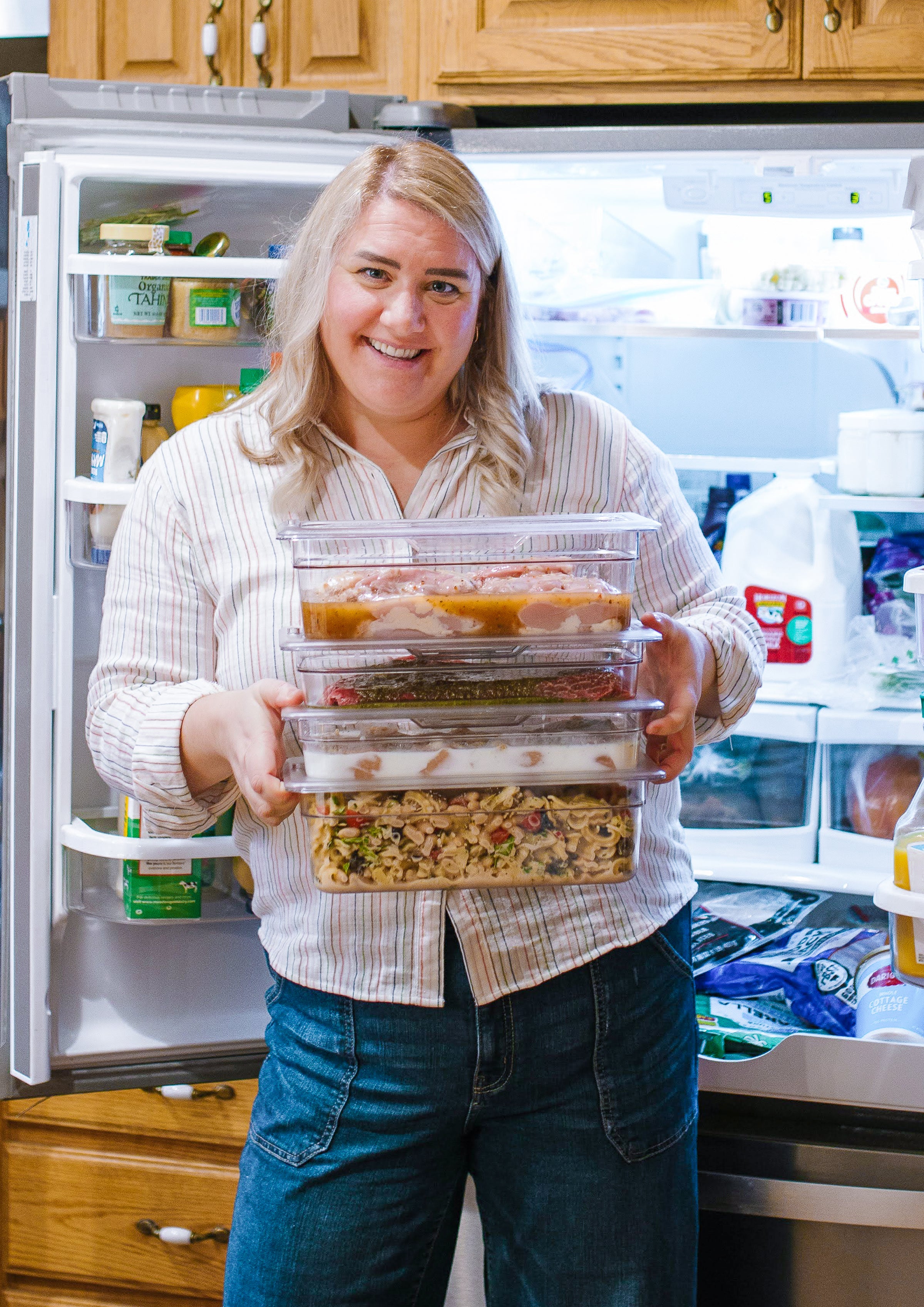 Meal planning is kind of like working out: it's not very fun before or during, but after, you feel amazing and you commit to never missing a day! How's that for a meal prep pep talk? Each meal below can be made on Sunday night and stored in the fridge throughout the week. One night of prep work = a fully homemade dinner each night of the week. A little extra hack for keeping your fridge organized: restaurant-style storage pans and these glass storage jars. Here are some super simple basics that can stand on their own or accompany one of your favorite family dishes.
Egg Bake (Breakfast)
Ingredients
15 eggs
1/2 cup milk
1/4 Thrive Life kale
1/2 cup shredded cheddar jack cheese
1/2 teaspoon black pepper
1 teaspoon salt
1/4-1/2 cup precooked, chopped bacon
Optional toppings: peppers, tomatoes, onions, zucchini. Whatever you need to use up, try it out.
Directions
Combine all ingredients in a large mixing bowl.
Coat a 9x13 pan with cooking spray and pour the egg mixture into the pan. Bake at 320° for 20 minutes. Serve warm. Keep leftovers in fridge and reheat in the microwave.

Pasta Salad (Lunch/Side)
Dressing Ingredients

1 Tablespoon capers
1 1/2 tablespoons mayonnaise
1/2 tablespoon dijon mustard
1 clove minced garlic, 
3 tablespoons red wine vinegar
3 tablespoons olive oil
1 teaspoon honey
1 teaspoon salt
zest and juice of one lemon

Pasta Salad Ingredients

1 lb pasta of choice
1 (12oz) jar of marinated artichoke hearts, chopped
1/2 cup chopped marinated roasted red pepper
1 (15.5oz) can cannellini beans, rinsed
1/2 cup black olives
2 tablespoons each of mint, basil, chives, chopped
1/2 cup cherry tomatoes, chopped
Directions
For the dressing, combine all ingredients in a jar. Mix until fully combined and refrigerate.
For the pasta salad, combine cooked pasta with beans, olives, peppers, artichoke hearts, herbs and tomatoes. Season with salt and pepper to taste. Add dressing and mix until fully combined. Serve cold.
Note: if you add the dressing when the noodles are still warm, they'll absorb more flavor.

Chicken Tenders (Dinner)
Ingredients
1-1.5 lbs chicken tenderloins
2.5 cups buttermilk
3 tablespoons garlic salt

panko bread crumbs 

oil, for frying 

2 tablespoons Crazy Jane Salt
Directions
Add chicken to the container, pour in buttermilk and salt, and mix until evenly spread. Refrigerate overnight.

In a bowl, mix panko bread crumbs and Crazy Jane Salt. Bread the tenders.

Bake at 350°F for 20-25 minutes, or until the center is no longer pink. 

Or fry in oil for a crispier crust.
Chicken Thighs (Dinner)
Ingredients
2 lbs chicken thighs
12 oz bottle Italian dressing marinade
Directions
Add chicken to container, pour dressing over chicken, and refrigerate overnight.
After at least 12 hours, grill until the internal temperature reads 165ºF on a meat thermometer. Alternative: bake at 350ºF uncovered for 30-40 minutes. 
Flat Iron Steak (Dinner)
Ingredients
1.25 lbs flat iron steak
2 oz olive oil
1 tablespoon oregano
1 tablespoon parsley
1/2 Tablespoon dill
1/2 Tablespoon Crazy Jane Salt
1 large clove of garlic
Directions
Grill for 12–14 minutes for a 1–1½ inch steak, turning about 1 minute before the halfway point. A meat thermometer should read 130°F.
Let your steaks rest for 5 minutes before serving, draped with a piece of aluminum foil.