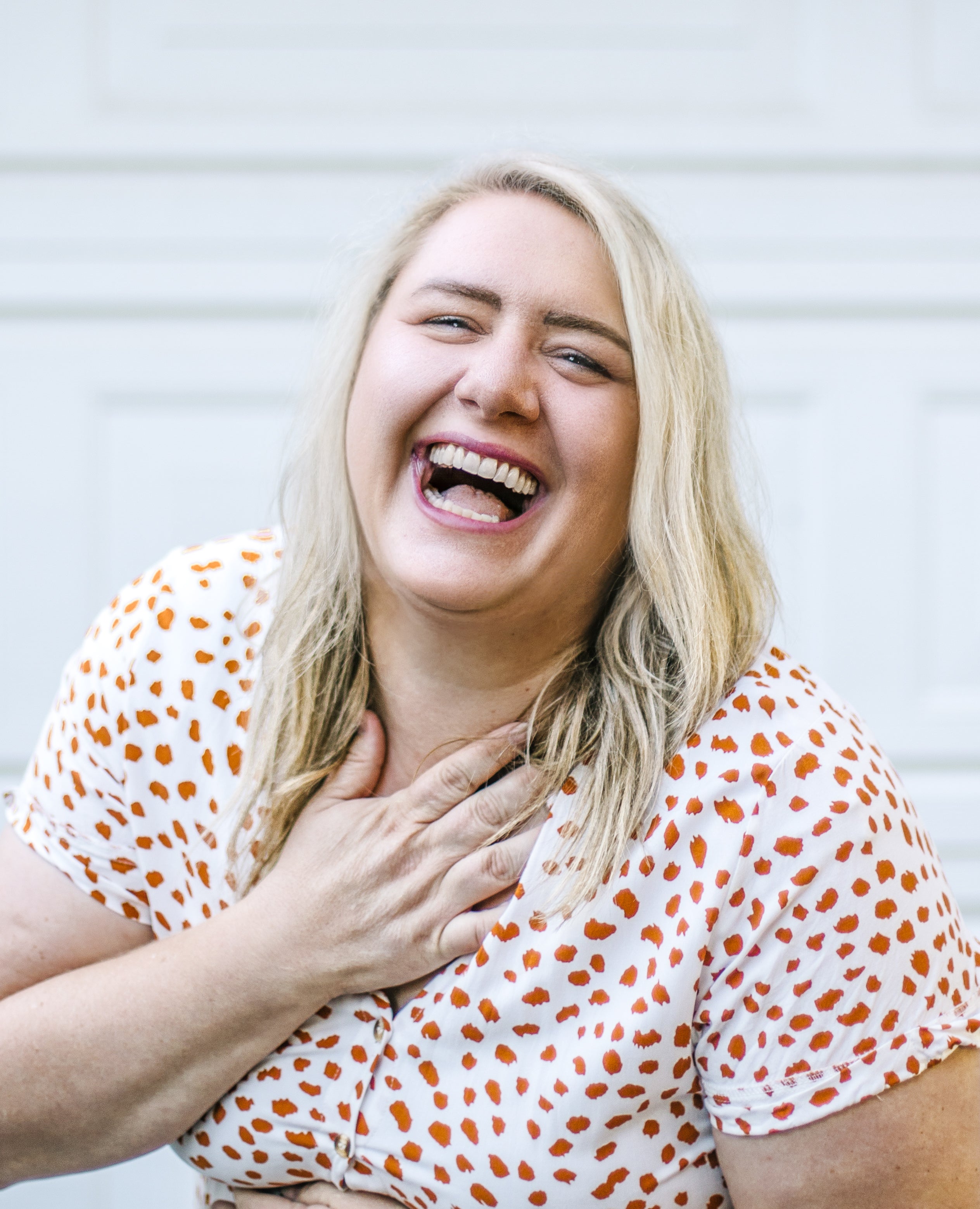 Self Portrait Series 5/52
Isn't it cool that when you're a baby no one has to teach you how to laugh? It's something that we all do so naturally, and everyone's laugh is unique to them. Anyone who knows me, knows my laugh. It's loud, wheezy, and contagious, and it's something that has always set me apart. As a little girl, my big sister would get so annoyed with my ridiculous laugh (she loves it now). I would get self conscious about it and try not to laugh, but I never could help it. I love laughing too much! Eventually I embraced my big laugh and was even voted "Best Laugh" in high school. I was also voted "Class Clown," so I chose to turn it down and take that one instead. 
The Best Medicine
I live for laughter. It's like this amazing release of tension that immediately sets everything right. When I get a good belly laugh, my whole soul lights on fire and I just feel so good. It really is the best medicine. I love to laugh with people and I love to laugh alone. I love to look on the bright side of things and just let things go. Laughing is one of my very favorite things and I wish I could do it more. I am so thankful God made me a jolly, happy soul, like Santa. 
My Toxic Trait?
I tend to laugh at the worst times, especially when I'm with my brother Spencer. He'll turn and give me "the look," or I'll give it to him, and we can't help but laugh. It's like an unspoken thing where we connect in a silly way. There have been a few funerals and baby blessings where I've literally had to leave the chapel because of Spencer. We can't go to the temple together because of this problem. There was one time in particular when we were in the temple - the most quiet sacred place- and we COULD NOT keep it together. There was literally no reason for us to be laughing so hard, but we just couldn't help ourselves. Everyone was so angry with us and the angrier they got, the more we laughed. Before we knew it, everyone was laughing with us though. I will never forget that day. I don't know why Spence and I are the way that we are, but I'm grateful for that special bond. Do you have anyone in your life like that? Someone who always makes you laugh for no reason?
A Career Maker
My laugh is what jump started my career on IG. It's because I chose to laugh at myself when I got my Carol Cut (see it here), that I have found success, connection, and community. The way I laughed it off clicked with so many amazing people, and it literally changed my life! Laughter has brought me so much joy, and I'm so thankful for my larger-than-life, one-of-a-kind laugh. It's truly a huge part of who I am.
Is there something quirky about you that sets you apart? Does it make you self conscious or have you embraced it yet? Has your unique trait brought you opportunities that may have passed you by without it? I want to hear all about it in the comments! 
xoxo,
Abi