Easter Traditions and Gift Ideas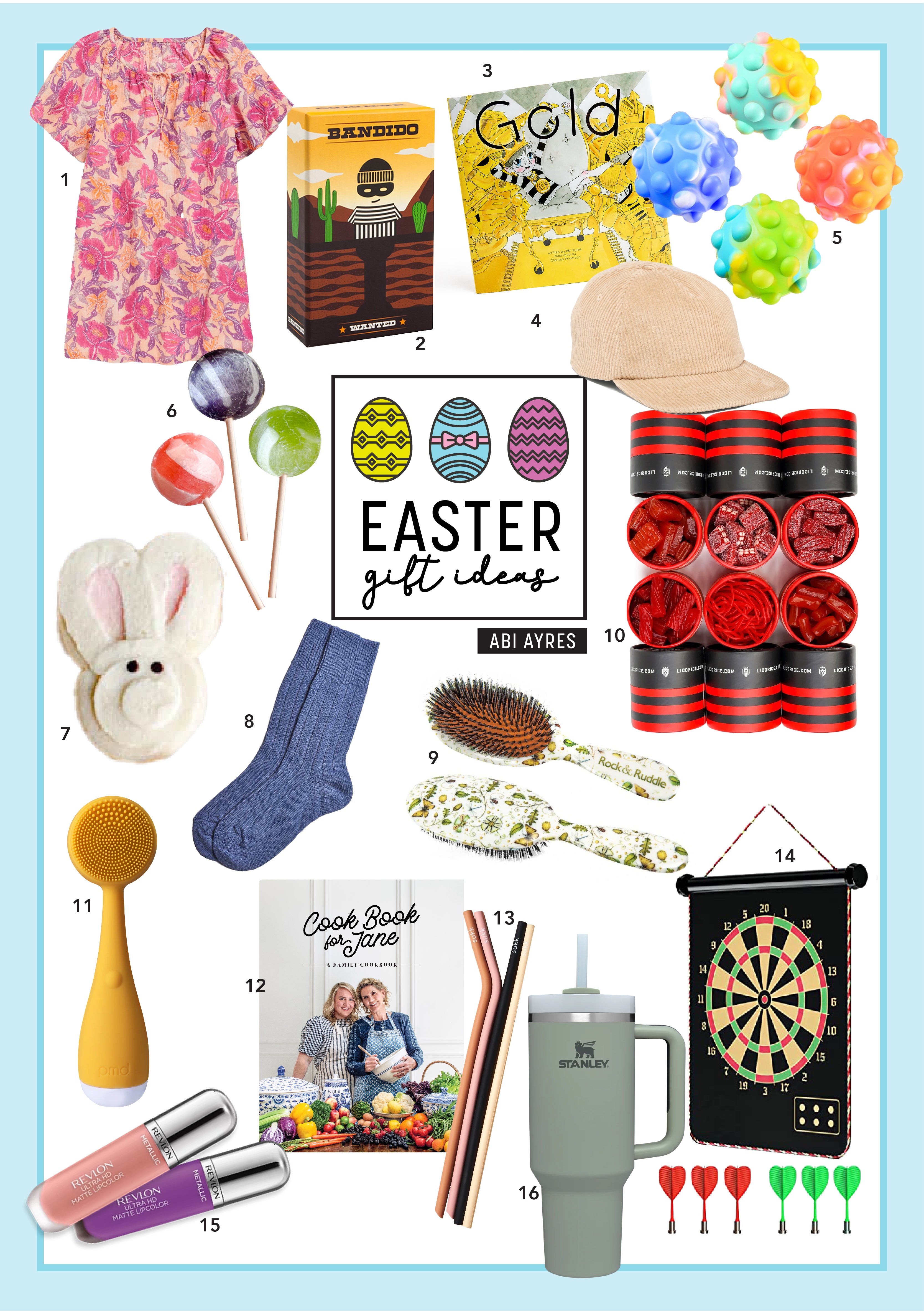 Easter is almost here! Are you ready? I'm definitely not. We don't have a ton of Easter traditions, which is totally out of character for me. I love traditions! So I'm curious about what your family does for Easter? Tell me your traditions in the comments and help me come up with some ideas.
One thing we've done is, instead of putting candy in all the eggs, we put quality time activities we can do with the kids in some of them. Like read a new book together, or go on a date, or play a game one-on-one. It's been so fun to watch the kids try to find the "light" eggs because they know it's gonna be way better than candy.
I may not be prepared, but I do have some gift ideas for your Easter baskets this year.
The cutest floral dress for girls. Would make a darling swim cover in the summer, too.
My kids are crazy about this game. So fun for the whole family.
Gold is a children's book I wrote a few years ago all about the color gold.
The cutest kids hat for boys and girls.
These pop-it fidget balls are so satisfying to play with no matter how old you are.
The suckers I've been working on in the Sweet Tooth Fairy's candy factory are finally here! The flavors are so unique and delicious - Strawberry Lychee, Blackberry Lime Fizz and Salty Margarita. 
The cutest sugar cookies made by the one-and-only Sweet Tooth Fairy. Comes with 10 jumbo cookies.
The coziest socks for lounging at home. Made from alpaca wool.
The

 

best hairbrush

 

in the world with the cutest spring pattern.
The licorice sampler pack is perfect for holiday gifts. Break them up and put one or two flavors in each kid's basket, or mix them all together and repackage so everyone gets a bit of everything. 
The PMD Clean Mini is something I wish I had as a teenager. The gentle vibrations deep clean the skin and can help minimize with breakouts.
I made Cook Book for Jane

 

with my mom. It's full of tried-and-true family recipes that anyone can make. 
You can never have too many reusable straws. These are my favorite.
This

 

magnetic dart board

 

is so fun for all ages.
My favorite lipstick right now.
Any teen or adult would be thrilled to join the

 

Stanley Cup

 

Club. It's as good as they say.
You can find even more ideas in the Easter Collection in my General Store here. I hope you have an amazing Easter weekend!
Love, Abi