Deliciously Easy Chicken Pot Pie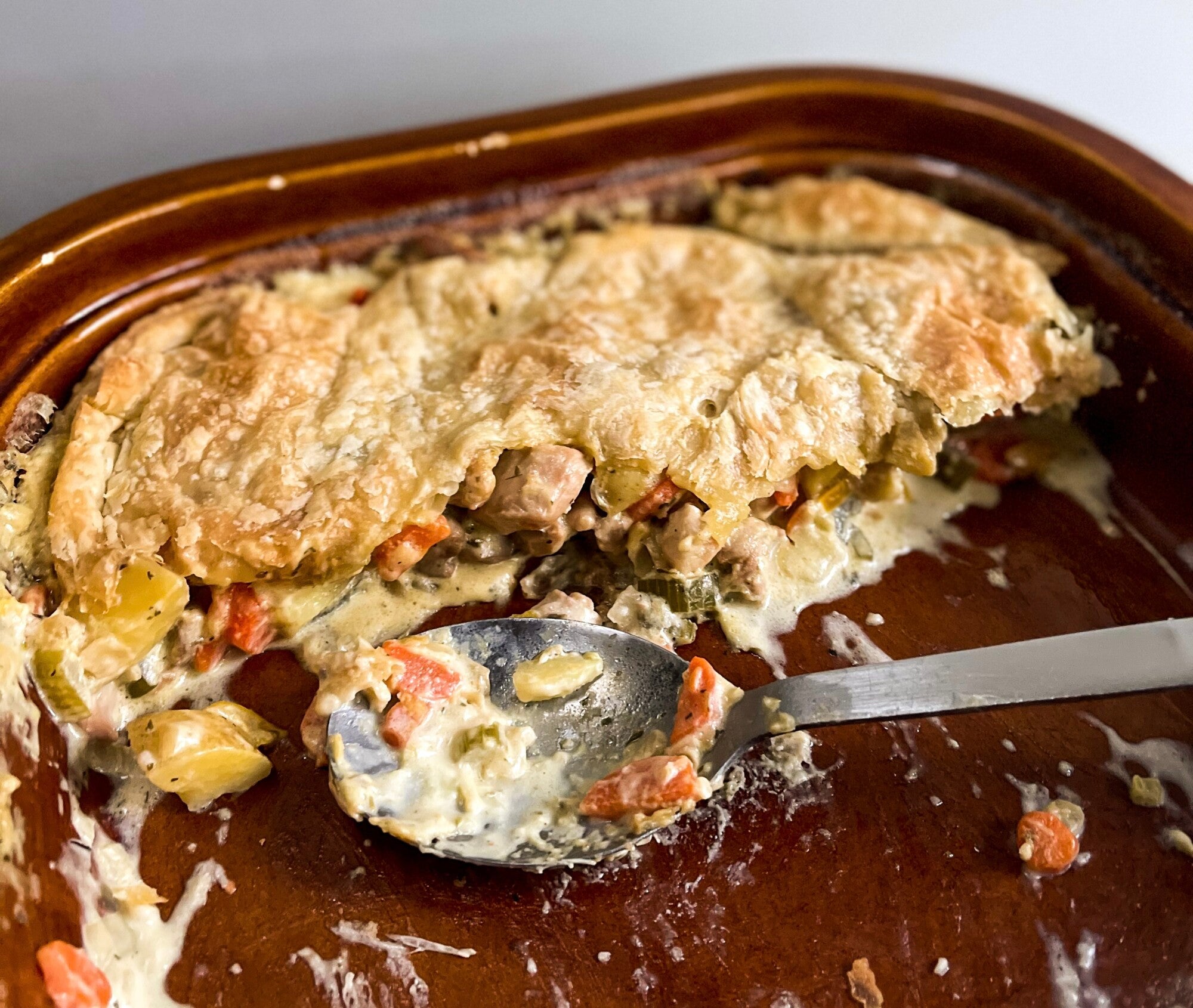 My toxic trait is making amazing and delicious food, but never writing down a recipe, so I can never quite make it the same way again. I know it's frustrating for you guys when I start whipping up something yummy in stories, but I can't provide a recipe, so I've decided to work on that. Over the weekend I made a chicken pot pie on the fly and it turned out delicious! I'll definitely be making it again. And the good news is, so can you, because I wrote it all down this time!
Chicken Pot Pie
Ingredients
2 sheets puff pastry (for top and bottom)
5 carrots (chopped)
1 onion (chopped)
4 cloves garlic (minced)
4 celery stalks (chopped)
1 Tbsp garlic powder
1 tsp thyme
1 tsp crazy jane seasoning
1 tsp dry mustard
1 8 oz package cream cheese
5 chicken thighs (cubed)
2 Tbsp olive oil
1.5 cups chicken broth
dash Worcestershire sauce
2 Tbsp salt
6 small potatoes (cubed)
1 Tbsp oregano
Directions
Chop all vegetables and set aside. Chop chicken and set aside
Heat oil in a large saucepan and add onion. Sauté until onion is translucent.
Add the vegetables, herbs and spices. Stir to combine.
Add chicken and sauté until chicken is cooked through and potatoes are al dente.
Add chicken broth and cream cheese. Stir until cream cheese is melted.
Preheat oven to 400°
Place first puff pastry sheet into a greased casserole dish. Puff pastry should cover the bottom and go part way up the sides.
Pour chicken and vegetable mixture into the pan and lay the second puff pastry over the top. Cut a few slits in the top for steam to release while baking.
Bake at 400° for 30 minutes, then turn the oven up to 420° and bake for an additional 5-10 minutes, until top is golden brown.
Try adding more of your favorite vegetables, like peas, string beans or mushrooms. 
This dish is the ULTIMATE comfort food and my family couldn't get enough! So easy, too. It's a win-win. Next time I'm going to add in mushrooms and peas, for sure. Hope you all enjoy!
xo, Abi