Childhood Mission Experience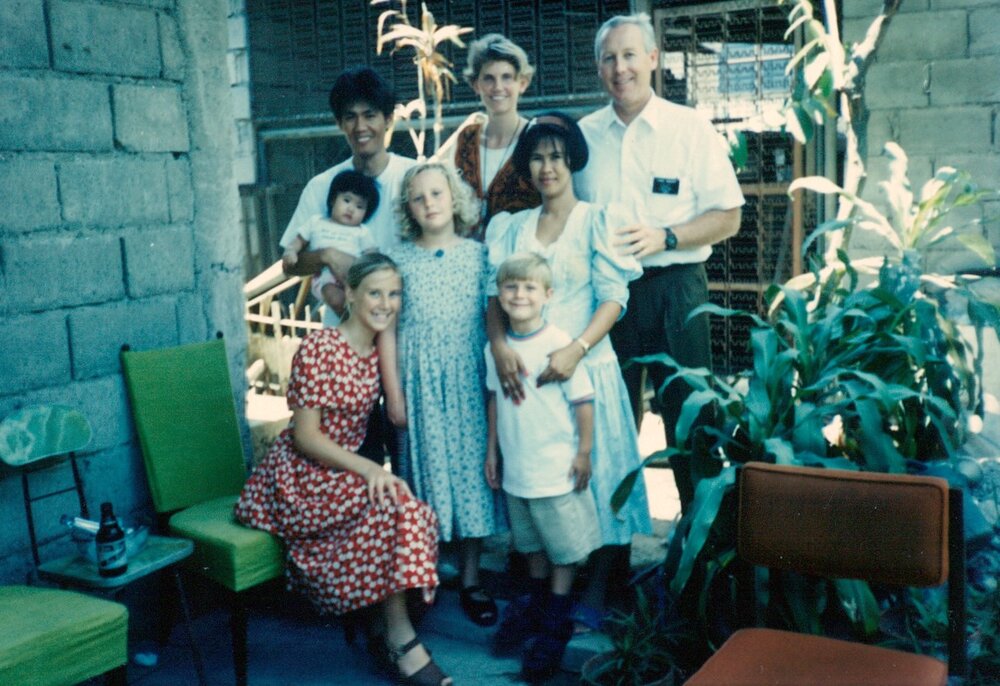 A few people asked me about our service mission to the Philippines after I posted about it during Human and Child Trafficking awareness month. I figured I'd tell our little story and share this really special and life changing experience with you. I'd love to answer any additional questions if you have any! I also must warn you that I share my testimony of Jesus ChriTst. I know that you may not have the same beliefs as me and I am in no way trying to convince you otherwise. I'm simply sharing my experiences with you and what I feel in my heart. If you disagree, that is 100% okay. I love you and I appreciate you being in my life regardless.
It is not traditional for members of The Church of Jesus Christ of Latter Day Saints to serve missions as a family. There are plenty of young men and women in their early twenties who go throughout the world teaching others about the Atonement of Jesus Christ as proselyting missionaries, but rarely does a whole family just pick up and go on a service mission. There are families who do serve as mission presidents who oversee missions throughout the world, but that is different than just taking your family. In order to go, we had to jump through a lot of hoops to finally get it approved. We had to have final approval of 7 out of the 12 Apostles. As members of the Church of Jesus Christ of Latter-day Saints, we believe in a modern day Prophet (President Russell M. Nelson) who receives revelation directly from God to lead the worldwide church. He calls 12 Apostles to help him fulfill their work here, just as Jesus did in his time 2000 years ago. These are the highest callings in the church so it wasn't just an easy phone call or request. It took months of back and forth. The only two things that my parents requested was to have us serve in a third world country and to do it for just one year. Another point to know about the Church of Jesus Christ of Latter-day Saints is that the Prophet and Apostles call each missionary individually. They assign every single missionary to where they need to go. It's not just generated by a computer or by chance where people are to serve.
When we got the call to serve in the Philippines, I had never even heard of it! I was eight when we got the calling. My dad had just sold OGIO, a bag company and had the money to do this with our family. The church usually doesn't pay for families or members to serve. It was very random and weird, and literally no one had done it before. As I look back at why my parents thought this was the best way to spend their time and money, I am baffled that they chose to serve the Lord and the people of the Philippines. I hope that one day I can teach my children that very humble and charitable lesson in some way. My older brother, Spencer, was a little crazy 14-year old. He had gotten in trouble doing stupid things and given community service hours. I think that also helped my parents decide we needed to go. When we arrived, my dad was put in charge of the Public Affairs as my mom took the children all of Manila serving in different capacities. We had no prior knowledge or guide book so we just set out each day and asked around to see where people needed us. We went to a few different orphanages, a school for homeless children called START, old folks homes, leprosy colonies, and were always serving at the church and local members there. It was eye-opening, heart-wrenching, soul-building, humbling, love-building and an all around life changing experience for all of us, even as children. It wasn't just a two-week service trip, we became a part of the community. We didn't go to an American School, we didn't go to an English-speaking church. We were homeschooled and tutored for a couple hours per day and we went to church with our Philippine neighbors. It took at least a month for me to get used to all the new food, the culture, the attitudes,
the heat
, the smells…everything. Everything was different. As a little girl it was literally a whole new world that I had stepped into. I vividly remember tasting a mango for the first time. It was delicious. The open markets packed with thousands and thousands of people, pig heads lined up along the tables, dried fish, chicken feet, guts hanging from the ceiling. The people! The people were so kind. So giving even though they had nothing. As we learned quickly, there were many in need, especially the children. We didn't just snap into loving serving. It took time to adjust. It was hot, annoying, and no time was our own. We were used to living a normal life in America centered around our own needs instead of the needs of others. It didn't take too long though. We recognized how blessed we were and learned that serving truly is the fastest and best way to feel true peace, love, and joy. As I wrote on my Instagram post earlier, the mothers would hurt their children to get more money when begging. One of the babies had been stuffed into a large pineapple can and thrown into a dumpster. He had been found a few days later and dropped off at the orphanage. When he came in we were speechless. It's hard to understand why a mother would do this to her baby. When basic needs are not met, we turn into animals. Food, water, shelter; these needs are not common among many people throughout the world even today. How can we love when we are concerned about survival? It's not easy. Not only did we see destruction and pain, we saw miracle after miracle as the year passed along. I remember Christmas in the Philippines. It was the one day we had as just our family. We had a quiet night planned, a nativity, some Christmas songs, nothing too big, but it was so special and calm. Shortly before we were going to eat and then go to bed, we heard a knock on the door and answered it. There were at least 50 people at the door caroling! We invited them in, opened all the windows and sang Christmas carols together as one of our neighbors strummed his guitar. My mom hustled to the kitchen, she knew that none of them had eaten. There was no way our meal set for six would feed 50+ people. She made a huge batch of tang juice, said a prayer in her heart that everyone would be fed this Christmas night, and invited everyone to grab some food. More and more people started coming in from the streets as they heard us singing hymns from the open windows. We spent hours into the night singing, eating, laughing, and celebrating the birth of Jesus Christ. As everyone started leaving my mom walked into the kitchen to see the kitchen table full of food still. Over 100 people had eaten! As tears streamed down her face, she packed a full plate of leftovers for every family to take home. It was truly a miracle. I could tell hundreds of stories of our time there, all the lessons we learned, the things we did and saw. As I reminisce and think of that time in my life I can't help but feel so much love. This world is crazy. This world is terrible. There is so much poverty, hate, negativity, and pain that it is hard to see what it is all for. Why is this happening? What is the point of it all!? My answer is simple. It is because this life is a time for us to learn to refine who we are even in the face of adversity. Life is not meant to be fair or easy. It's not meant to be perfect. We are meant to pass through sorrow so that we may feel joy, to pass through struggle to find success, to feel sadness so we can feel happiness. I believe that with my heart even though it may not make sense. I know that there is something more than just living and dying. I know that there is a plan for us that transcends this earthly existence. I feel it. I wouldn't write this to a bunch of strangers if I didn't believe it or know it from experiences in my life that lead me to where I am now or the person I have become. I am nothing without the faith I have in my Savior Jesus Christ and my relationship with my Heavenly Parents. To know me fully and understand why I do what I'm doing, you have to know that it is in the name of God and His light. I hope you can find peace through your source of light and truth. These times are difficult y'all. I don't know how I would maneuver such choppy waters without His guiding light. Love to all of you no matter your belief, circumstance, situation, or creed!