The Best Date Night Restaurants in Salt Lake and Park City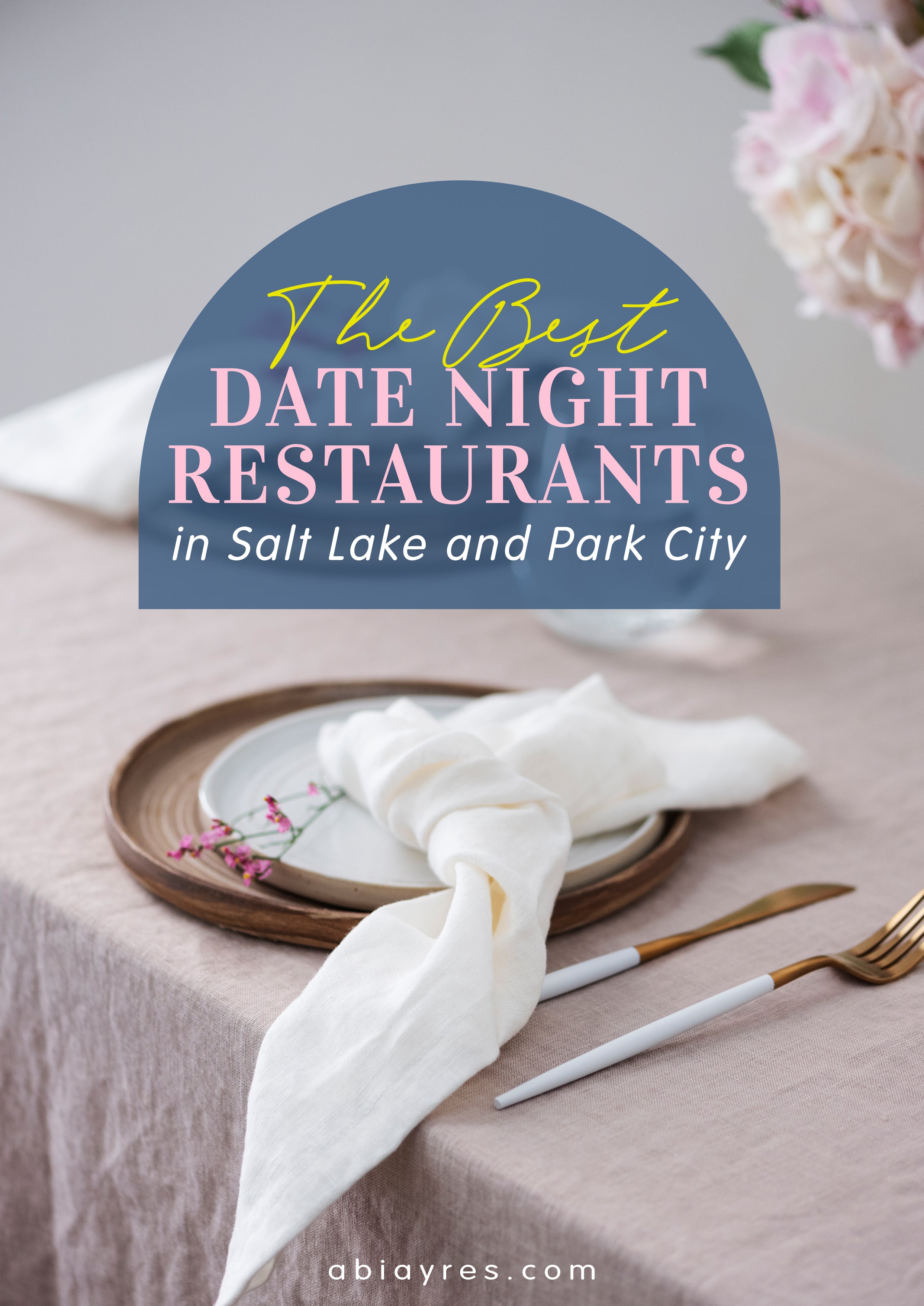 With Valentine's Day around the corner, you may be looking for a romantic restaurant for date night. If you know me, you know I love good food and dining out, so I wanted to share my all-time favorite local restaurants. These places will knock your socks off! Most of them are already taking online reservations for the week of Valentine's Day, so jump on it! 
Upscale Southwestern
Park City
$$$
The restaurant features beautiful woodwork, terra cotta tiles and a cozy fireplace, designed after the Chimayo Mission in New Mexico. When I worked on Main Street, Park City at Java Cow, Chimayo was right next door and we'd often trade ice cream for dinner. They have the best bread and dipping sauce. I dream of it! You really can't go wrong with the food, everything is so dang good. Make a reservation.
My recommendations:
◆ 

Ceviche

◆ 

Goat cheese and mozzarella chile relleno

◆ 

Pretty much all of their soups are amazing, but the roasted corn is top tier.

◆ C

hile rubbed wagyu strip steak, 

◆  Lamb Shank

◆ Scallops
Rustic Italian
Park City
$$$
This historic building at the top of Main Street has a long and storied past. It was once a brothel, a bed and breakfast, a bar, and more. It's now one of the most popular restaurants in Park City, boasting incredible views from its 3 rustic Italian dining rooms and spacious garden deck. My older brother worked at Grappa when we were growing up and I always wanted to go. Just last year, my dream finally came true when my 3 best friends and I went on a girls trip to P.C. and decided to splurge at Grappa. The whole experience surpassed all my expectations! Everything we ordered was divine. I can't wait to take Ammon one day. The dinner, the service, and the ambience were all 10/10. Make a reservation.
What we ordered:
◆ Heirloom Tomato Bruschetta
◆ Grapes and Gorgonzola Salad
◆ Horseradish Crusted Salmon 
◆ Eggplant Parmesan
◆ Scallops Risotto
Regional-focused Italian
Salt Lake City
$$$
Industrial-meets-chic in this beautiful historic building. Enjoy regional Italian cuisine in their jaw dropping dining room or on the lovely garden patio. Live jazz music on Friday nights sets the mood. They recently relocated to this building, so Ammon and I had to check it out and it was incredible - even more beautiful than their last space. Make a reservation.
My recommendations:
◆ The Ravioli con Zucca
◆ Arista
◆ The Bistecca
◆ Gnocchi di patate
◆ All of their desserts are divine
Japanese and sushi bar
Salt Lake City
$$$
Enjoy an unforgettable meal under a canopy of glowing paper lanterns. Takashi is the best sushi restaurant in Utah, hands down. They've been recognized by It's so freaking good. I can't even narrow down any recommendations because everything is impeccable. If you haven't gone, you need to go. Like, no matter what. They do not take reservations online. There is always a line out the door, so go early and plan on waiting. I promise, it's worth it.
Upscale American
Salt Lake City
$$$
Ammon and I got the Female Foodie Card and our first stop was Handles Salt Lake, also known as HSL - an upscale and contemporary American restaurant. We ordered what Brooke recommends and it did not disappoint! Make a reservation.
What we ordered:
◆ Buttermilk biscuit
◆ Fried chicken
◆ Radiatori
◆ HSL burger
Korean BBQ
Salt Lake City
$$
Unlimited meats and traditional Korean sides. This is not your typical all-you-can-eat restaurant - it's an experience. You get to choose from a huge variety of marinated meats to cook to your liking right at your table. It's a nice way to enjoy a slower paced meal where you connect more to the food you're eating and the people you're with. My only recommendation is that you try it all! They have 3 locations: Salt Lake, Midvale and Orem. Make a reservation.
Upscale Italian
Salt Lake City
$$$
I saved this one for last because it's the best restaurant I've ever been to. EVER. I've been around the world and eaten all different kinds of food, but this was THE VERY BEST. Maybe it was the day, maybe it was something else that made it so good, but if you were to ask me about the best restaurant I've ever been to, this would be it. Make a reservation.
What we ordered:
◆ Burrata with roasted tomatoes and saba
◆ Ravioli Toscana
◆ Gnocchi Pomodoro
◆ Scaloppine Di Vitello Al Limone
◆ La Chiantigiana
Hopefully this list gives you some fresh ideas. Let me know where you go and what you order! What is your favorite restaurant in Utah or wherever you live? Share in the comments so I can go too! 
xoxo, Abi