Abi's Intro to Prepping: Water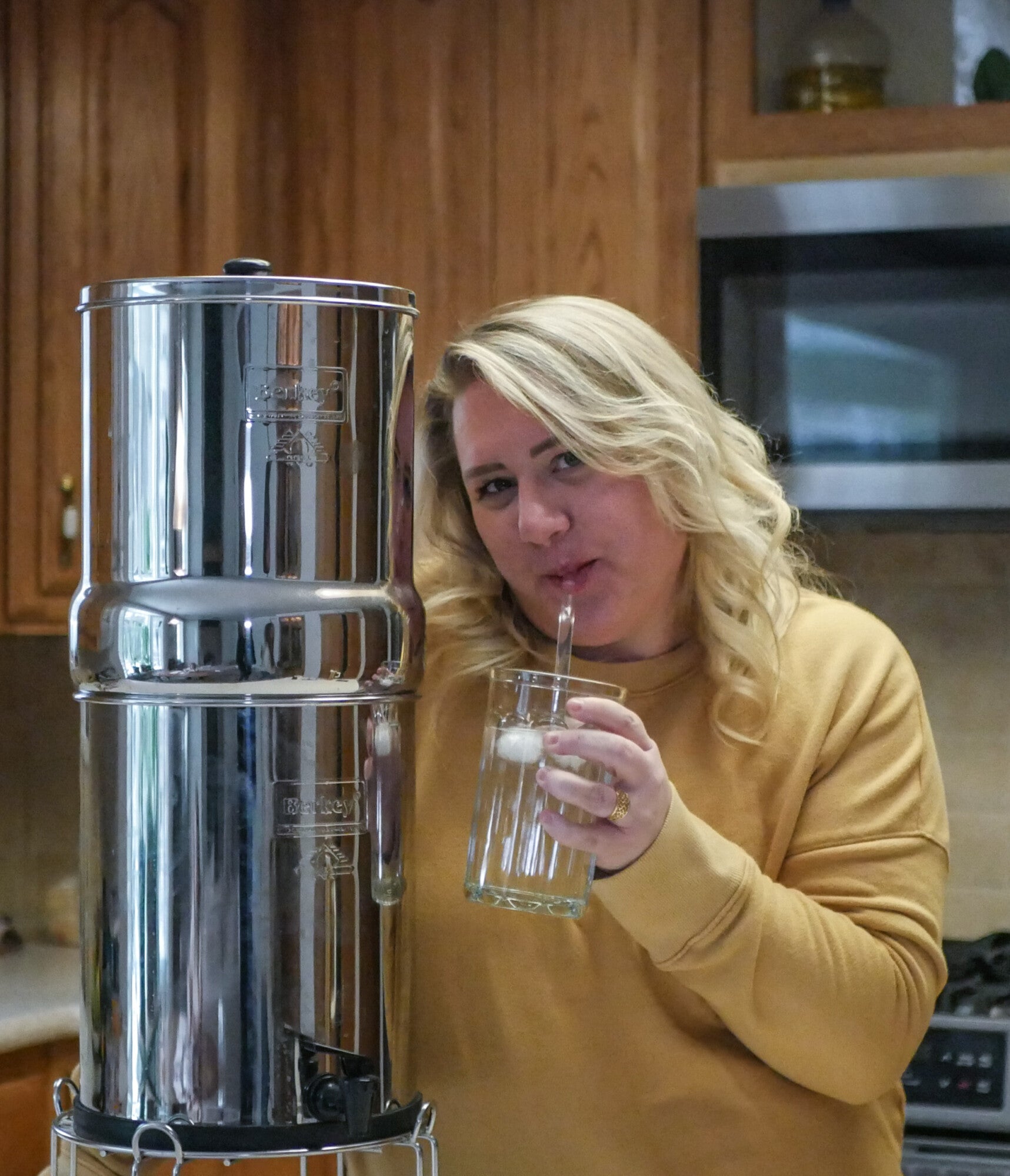 Every class I have taken for preparedness starts with water. No matter each person's circumstances, we all need clean water to survive. You've probably heard you can drink water from the tank of your toilet, or you may have a huge stash of water bottles. Some of you may even have a water filtration system connected to your house. But is this all enough? What if a natural disaster destroys your home or cuts it off from the municipal water supply? What good is a water filtration system connected to your plumbing then? Can a few cases of water bottles sustain your family for several weeks? I'm not saying those aren't great options for short term use, or for other kinds of emergencies, but these are my favorite affordable long-term options:
Why do I love my Berkey? Because it's easy to use, portable, affordable and most importantly, it filters harmful bacteria AND viruses out of any water source. Not many filters do both.
To test out the Berkey, Ammon and I did a crazy little experiment (you can watch it in my highlights here). First, we got river water from our backyard, poured in a bunch of eggnog, Sriracha and pickle juice, stirred it up and then filtered it. I knew after filtering that the water would be safe to drink, but I believed we'd still taste the pickle juice and eggnog. Boy was I wrong! After using the Berkey the water was crystal clear, and some of the best I've ever tasted!
Now we keep our Berkey in our pantry and always have amazing water. Not only do we enjoy fresh filtered water daily, but if we had to leave our home, we could take the Berkey system with us. It's about the size of 2 stacked basketballs.
Check out the Berkey here and be sure to use code Abi5 to save on your order. When you set up your Berkey, be sure to READ THE INSTRUCTIONS. You have to prime the filters before they will work. So many people have told me "Abi, mine doesn't work!" and it's always because they didn't prime the filter first. It's so easy and the instructions are in the box when it comes. Also, be sure to buy a few extra filters to have on hand.)
The LifeStraw is an incredible product perfect for real emergencies. It's a straw that literally filters water as you drink it. Keep one in your car and keep one in your 72 hour kit, because it could save your life one day. Now I'm not gonna lie--gross water will still taste nasty, but it will be filtered and safe to drink. LifeStraw comes in two forms: The LifeStraw and LifeStraw Bottle. One is an incredibly portable straw that you can dip right into a stream and drink through. The other is the LifeStraw bottle. It takes up a little more space, but you can fill it with stream water and take it along with you for later. Both options are great and I highly recommend getting at least one of them.
Please note: There are a million survival products out there, and new ones coming out all the time. You may disagree with my choices, but I'm not here to argue. I'm here to help. I swear people who get into Prepping sometimes go so far and are so hell bent on the products that they love leaving no room for anything else. I honestly believe there are plenty of amazing products, I just found these to be my personal favorites. The best thing that you can do is to have your survival needs, and know how to properly use them.
Homesteading Like a Gangster
Are you interested in learning more about self sufficiency and emergency preparedness? I created a super helpful BEGINNER guide to homesteading just for you! "Homesteading like a Gangster" covers several areas of homesteading in great detail, but keeps it simple and accessible for beginners. Subjects covered are:
Starting a garden

Composting

Raising Chickens

Buying Meat in Bulk

Brewing Kombucha

Baking Sourdough Bread

Canning Basics
My mission with this course was to help others feel like these subjects can be done by anyone, anywhere, with any amount of space and it doesn't have to be scary to start. It's a step-by-step guide that proves if I can do it - so can you!
I'm having a huge sale on this course for the next 2 weeks!
Check out the course here:
Homesteading Like a Gangster
and u
se code ABI2022 to get 50% off
If you don't want the entire guide, you can shop the individual sections here.