A Recipe to Try! Coconut Shrimp with Mango Lime Sauce.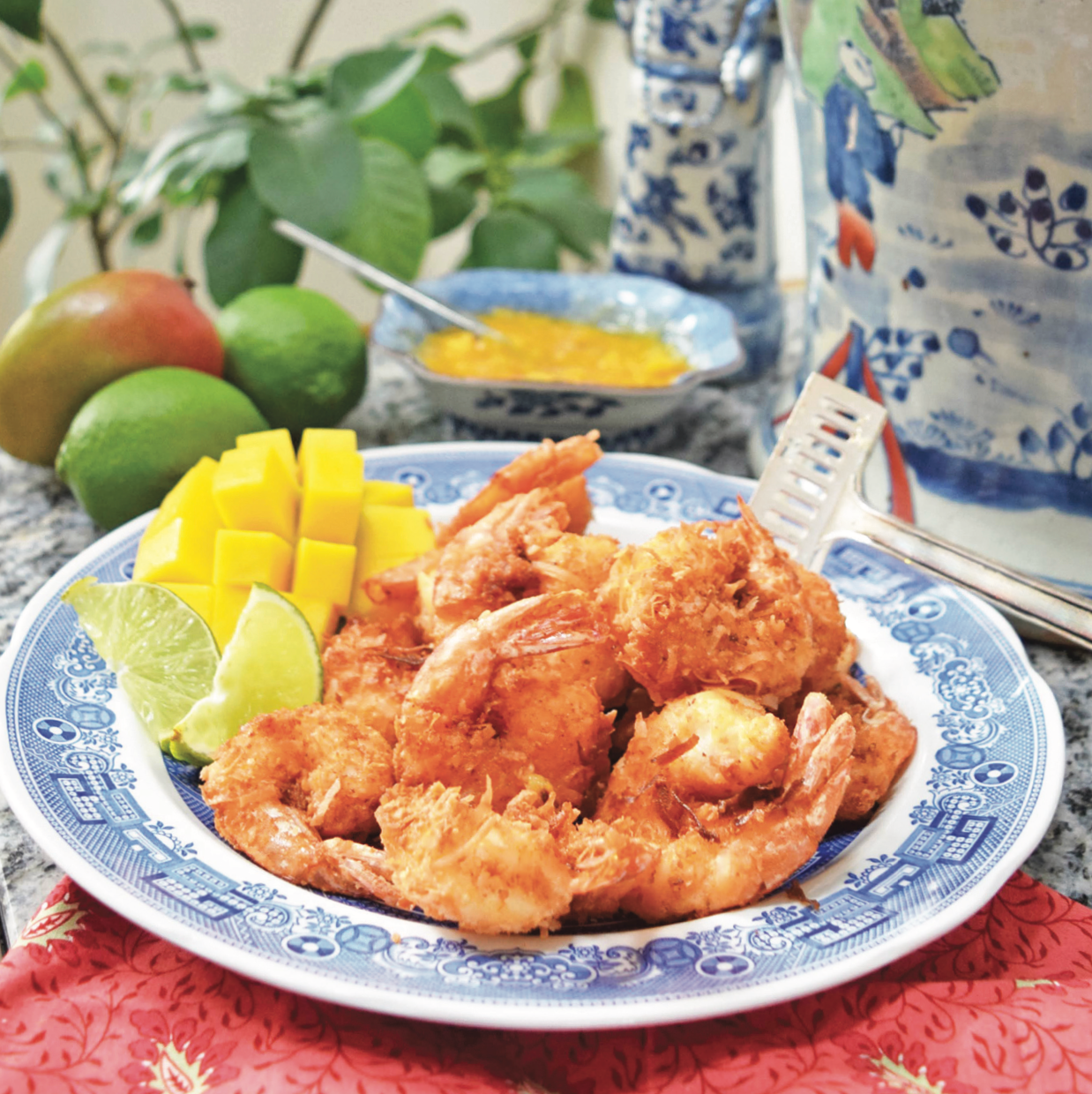 Picture this: a sunny day, gentle breeze, and laughter filling the air as your loved ones gather around for a delightful feast. As summer comes to an end, these are the perfect days to gather in your backyard, have a fire, and cook something delicious. This crowd-pleaser recipe lets a bit of summer linger with these flavors. 
Ingredients:
Shrimp and Seasoning:
2 pounds shrimp, peeled & deveined
Salt
Vegetable oil
Cajun spice
Sauce:
3 mangos, diced (about 2 cups)
2 teaspoons grated fresh ginger
Juice of 1 lime
2 tablespoons sweet red chili sauce
1/4 cup honey
2 tablespoons rice vinegar
1 teaspoon salt
1/2 teaspoon pepper
1 cup cilantro, chopped
Breading:
2 eggs
1 1/4 cups beer or chicken broth
1 1/2 cups all-purpose flour, divided
3 tablespoons Cajun spice
1 teaspoon salt
1/2 teaspoon pepper
2 cups shredded coconut
1/2 cup panko bread crumbs
Instructions:
Marinating the Shrimp: Sprinkle shrimp with salt and Cajun spice. Squeeze lime over the top and let it sit for 15 minutes to absorb the flavors.

Prepare the Mango Lime Sauce: In a blender, combine diced mangoes, grated ginger, lime juice, sweet red chili sauce, honey, rice vinegar, salt, pepper, and chopped cilantro. Pulse until chunky, then chill the sauce until the shrimp is ready to serve.

Create the Breading Batter: In a blender, blend eggs, beer (or chicken broth), 1 cup of all-purpose flour, Cajun spice, salt, and pepper until the batter is smooth and creamy.

Heat the Vegetable Oil: In a frying pan, heat vegetable oil, about 2 inches deep, to 325°F (163°C).

Set Up the Breading Station: Prepare 3 bowls for breading. In the first bowl, place 1⁄2 cup flour. In the second bowl, pour the batter from the blender. In the third bowl, combine shredded coconut and panko bread crumbs.

Bread the Shrimp: Dip each marinated shrimp first in flour, then in the batter, and finally, coat it with the coconut and bread crumb mixture.

Fry to Perfection: Gently place the breaded shrimp into the hot oil and fry until the coconut turns a beautiful golden brown.

Serve Warm with Sauce: Transfer the crispy coconut shrimp to a paper towel-lined plate to drain any excess oil. Serve the warm coconut shrimp with the chilled Mango Lime Sauce, and let the tropical flavors take your taste buds on a vacation.
Dive into these flavors and spend time with your loved ones. It's a meal that creates cherished memories and has everyone asking for your secret recipe.
Oh, and before I forget – if you're eager to explore even more culinary wonders for your gatherings, I recommend checking out the "Cookbook for Jane 2nd Edition." Find your digital copy of this culinary treasure at Abi's General Store!