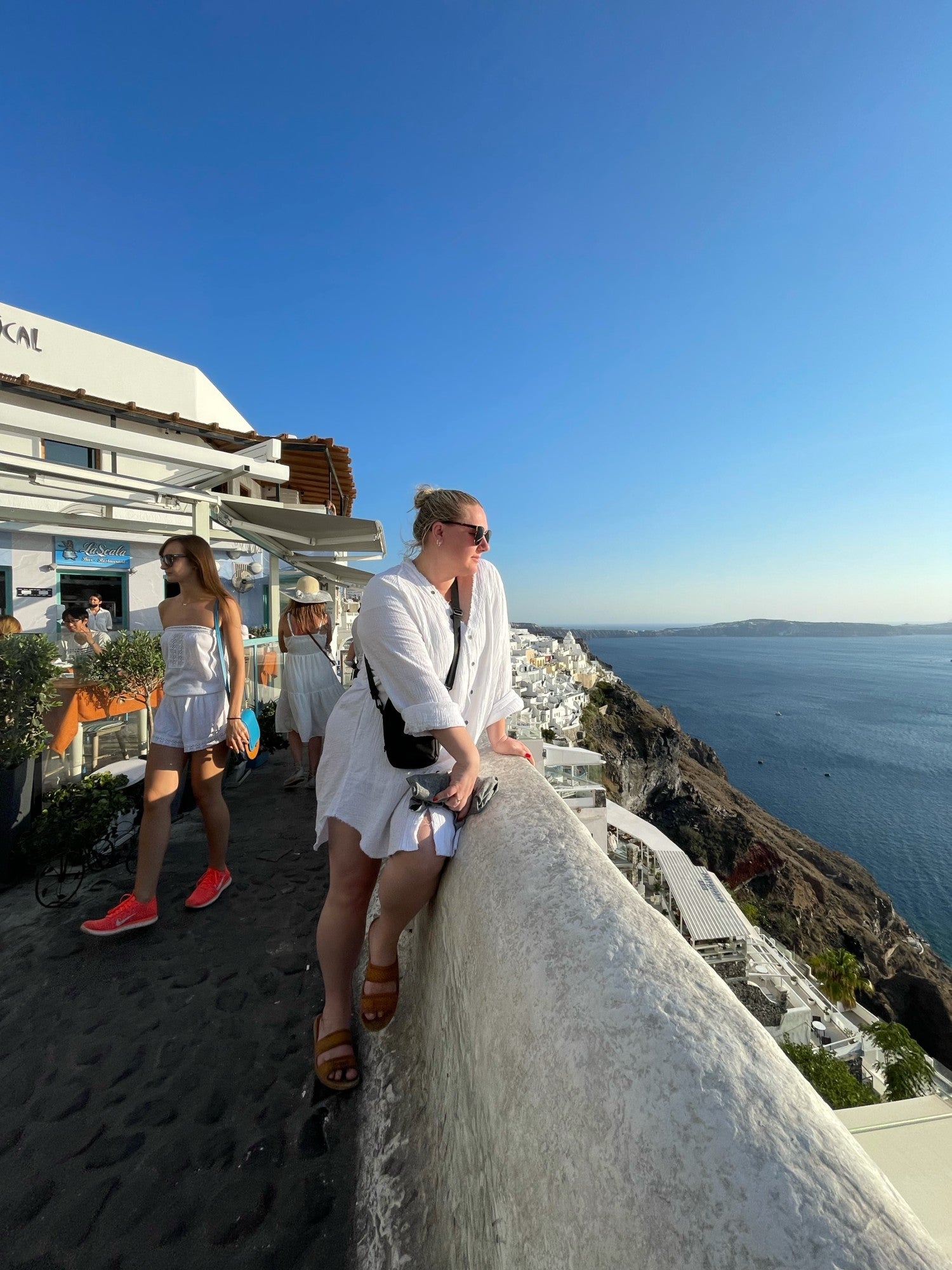 I'm finally coming back to the world of the living after getting over my jet lag, but GREECE, you guys! Absolutely worth all the sleepless nights and sleepy days. So many of you wanted more details about the trip so I decided to put this post together to give you a more in-depth view of the trip.
First, why Greece?
I actually asked my mom about eight months ago to go on a trip to France with me. She and her mom have always had a love for antiques and went on multiple trips to France together over the years to go antiquing. It was a really special thing for them and I'd always wanted to do something similar with my mom. When I mentioned the idea, she was totally on board. Then, a little while later, she suggested we make it a full girls trip with all of my sisters. This sounded even more amazing to me! We bought our tickets to France, got the trip planned and then two weeks before we were supposed to leave things in France went crazy. Covid was obviously a factor, but terrorist threats also spiked because our travel was over September 11. The government suggested we not go, but none of us wanted to totally call off the girls trip. My sister Emily got to work, hopped online, and found this cruise in Greece that looked really fun. We booked it very last minute, and a couple weeks later we were floating on the Mediterranean!
Athens
We flew out of Salt Lake City and arrived in Athens around 10:30 in the morning. We didn't board the cruise ship until close to 6:00 pm, so with that being our only day in Athens we hit the ground running. We rented a rented a van and hired a driver right from the airport to accommodate the five of us and our luggage. We could have rented a taxi, which I'm sure would have been cheaper, but the van was 400 Euro for the day and the driver to took us wherever we wanted to go. Being able to leave our luggage with him made all the difference. We were able to just tour around to our heart's content without lugging our suitcases behind us. We went to sights like the Parthenon, the Acropolis and the Panathenaic Stadium. At the stadium there was this little place to eat and it was so delicious. I'm telling you, the food was amazing the entire trip. I couldn't get over it. There was also an open air market in Athens that was really cute and fun but we were all so jet lagged and exhausted, I don't remember much from that day. Our time in Athens was short and sweet because that evening we took the van right to the port and from there boarded our cruise ship.
The Cruise and Traveling during Covid
Azamara was the name of the cruise line we used, and it was unbelievable. It absolutely exceeded all of our expectations. Our trip was the second cruise they had done since Covid and it felt like there was literally no one but us on the ship. We were told the maximum capacity was 700 passengers, and some of the staff told us there were only 180 passengers on our cruise. To be honest, I seriously even doubt that number because it seemed like there was barely a soul but us on the ship, which was actually so nice.
A lot of people wondered about Covid and the steps we needed to take to make this trip happen. In order to get on the ship, every passenger had to take a Covid test at the port before boarding. We did not have to take a test to get into Greece, but we did have to prove that we'd been vaccinated to get into the country. Travelers to Greece need to go onto Greece's government website and show proof of vaccination and then in order to get on the ship passengers have to get a negative test. I was nervous for some reason, but thankfully we all tested negative. We talked to the nurses there as we were testing and they said they'd seen very few positive test results. As far as our return back home, the United States requires a negative Covid test result to come back into the country. Azamara actually provided those tests for us on the ship in the timeframe we needed, which was great. The entire process was surprisngly smooth and seamless for us. There were a few times within Greece, for instance going into a mall or into some of the restaurants, where we were asked to show our vaccination cards. I think that happened maybe three times the whole time we were there.
Santorini
Our second day we spent in Santorini, the city that likely comes to mind when you think of Greece. It's the hilly city next to the ocean covered in white and blue buildings. It's super pretty, but I thought it was way too hyped up. We rented a car for the day, which was about 40 Euro, and were able to go through the entire island in one day. We walked through old town, which is really beautiful. The town has tons of shopping and lots of picturesque views, but honestly, that's about all I felt it had to offer. We went to a beach, which is where I went skinny dipping, which was was obviously really fun. :) Honestly, I think our expectations were really high for Santorini and it underdelivered in my opinion. It was probably number 3 or 4 for me out of the 5 or 6 cities we visited. It was just really dry and not green at all, but that's also probably because we were there in September. It was beautiful in its own way.
In order to get to the top of Santorini there's a gondola ride that costs 40 Euro. The other options to get to the top are to rent donkeys or walk. I was told that if you rent donkeys you end up smelling like donkeys the rest of the day, so we didn't do that, but I kind of wish we would have. Ha! Memories, right? I think it's about a 1.5 mile walk up the steps, which we decided sounded like too much. We chose to take the gondola up and then later walked down, which was surprisingly painful on my knees even though I've been hiking and training for my hike through the Grand Canyon. It was really steep down and there was tons of poop because of the donkeys. It was really beautiful, but it was just that one city, you know? And all there was to do was eat and shop. Just not my absolute favorite.
Rhodes
Day 3 we spent in Rhodes, which was incredible! I think we would all say it was our favorite day of the trip. The city was so beautiful and charming. There were tons of archaeological things to do, the food was amazing, and the shopping was insane and much cheaper than a lot of other places in Greece. We could have spent a lot more time there. We again rented a car for 40 Euro and were able to go around the whole island. We were blown away by the place! The man who rented the car to us recommended we eat at this tiny little seaside restaurant called Stegna Kozas. It was so cute and the food was amazing! We ate fresh fish, and their olive oil is made right next to the restaurant, which was insane. Their balsamic vinegar was also unreal and they had this sauce made out of crushed olives that I about died over. I have dreams about how amazing that experience and all the food was. We just sat there for like three hours and chatted overlooking the Mediterranean. It was so special and perfect and everything you'd ever want in a girls trip, or in life, really. :)
A Day at Sea
The next day we spent at sea without service, which was still so much fun. The ship's food, especially the restaurant aboard on Deck 5, was incredible! It was not like typical cruise food at all. It was super nice. We went to Deck 5 every night for dinner and it was exquisite! We felt like they nailed it, and all five of us are pretty picky. They get a 10 out of 10 for all the food from me for sure. And the staff on the ship was incredibly friendly and fun too. I would totally go back and do it again! It made even our day at sea so enjoyable and relaxing.
Cyprus
The next stop on our itinerary was Cyprus, and sadly, we didn't love it. There wasn't much to do so we ended up shopping, which luckily turned out to be fun because there was a really nice mall with lots of European shops. We weren't impressed by the city itself though. It was super hot and humid and it felt like there was nothing to do because as a tourist you aren't able to rent a car and most of the attractions are far away. To rent a car you have to have a European license and you have to be there for at least three days. Mount Olympus is in Cyprus, along with many other major sights, but we weren't able to get to them because they were all too far away. We did, however, enjoy the Catacombs. There was an old, beautiful wishing tree right at the entrance of the Catacombs where you can make wishes, which was fun. Right at the port there is an archaeological site with tons of huge mosaics, but we missed it because we were just done by the end of the day. My sister, Kelli, ended up going there by herself and she said she thought it was incredible.
Crete
The next day we went to Crete, which we we all loved! It was probably our second or third favorite city of the trip. It is huge and again like Cyprus, was difficult to rent a car. However, there was enough nearby and within a taxi ride that made it a really lovely day. Much of our time there was spent visiting an old leper colony, Spinalonga. We rented two taxis to get there, which cost about 20 Euro each and then we got on a little ferry to get to the island. Visiting Spinalonga was a really spiritual experience for me. Spinalonga was used as a leper colony from 1903 to 1957. Thinking about all those who lived there had to go through and the community they eventually created on this island felt really humbling. We went to lunch right there on the coast, which was really quaint and cute. The hummus was absolutely killer! I could have bathed in the stuff. The downtown of Crete was really charming too. There were lots of churches and cafes and it was just really picturesque. I felt like I could have spent a week there. I would love to just go on a week long trip just to Crete and Rhodes in the future.
Mykonos
On our last day we visited to Mykonos which we also enjoyed. The island is quite small and we were able to rent a car there, which was lovely. There are tons of beaches, but the one we decided on for the day was Kalafati Beach. The beach itself was free, unlike most the others there, and there were cabanas we could lounge on as well. We actually drove to 3 or 4 different beaches in our car and ended up choosing this one. We laid out most of the day and hung out, which was so relaxing. Later, we went to the downtown, which was gorgeous. It is one of the prettiest places I have ever been. Things there are pricey, but for the experience, it's absolutley worth it. The town is really intricate with tons of twists and turns and I guess they made it like that to protect the city from the wind. There was a dress shop we went to there that was amazing. I wanted to buy everything! Mykonos is known to be really LGBTQ friendly and there's lots of diversity there as far as that goes I think because of that. It's known, I think, for its nightlife, but it's still really amazing during the day.
On our last day we came back and ported in Athens again. We could have left the ship early but we didn't know where we would put our luggage so we ended up staying on the ship until 9 pm and then got a taxi directly from the ship to the airport. It was expensive because the airport is about 45 minutes away from the port, but it was nice to be able to take our bags straight there. I would absolutely recommend this trip to anyone. Whether it be a girls trip, a couples trip or a family trip, it would absolutely be worth it. I think it was about $3,500 per person in total for the flight and the cruise. I'm so glad we decided to move forward with our girls trip, even after coming into some bumps along the road. It all turned into such a happy accident and I know we will be dreaming of that blue water and all of that delightful hummus for years to come.